Average rating from 48 users
82%Recommend to a friend
has such cute cases that don't sacrifice the planet along with it. they have a bunch of different options that are all compostablea and responsibly made. this brand warms my heart <3
---
Cute designs and great ethical POV.
---
---
Pela has grown a lot since I bought by first iphone case from them years ago. Since then I have returned to purchase various compostable cases. Their innovative design and commitment to eco-conscious business is nice. I always try to support B Corps and 1% for the Planet business members because the criteria is tough and I can trust they aren't totally greenwashed. Their recycling program is great too.
---
What is Thingtesting?
Thingtesting is an unbiased place to research and review internet-born brands — because honest reviews help us all shop better. Learn more.
---
I bought a phone case. My case did fall apart, but I think that's a good thing. I love Pela's brand and mission, and will continue to buy their products and recommend it to friends. I took off one star because it fell apart a little too quickly. I would like the formula to be adjusted so that it doesn't come apart so quickly.
---
Love a brand that supports the planet. Great sturdy cases that have been protecting my phone against gravity since day one!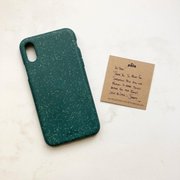 ---
If you are not concerned about eco-friendly causes, Pela cases can be a hard sell. While their mission is admirable (compostable phone cases) the price is difficult to justify to an ordinary consumer. I own three Pela cases, they are durable and feel nice to the touch. I would reccommend the cases, with the caveat of waiting until their next 2 for 1 sale. ⭐ Cute solid colors ⭐Great company mission ⭐Pricey but great sales and deals
---
Received a free product from Pela
high quality and sustainable
---
I liked my Pela cases a lot - they just got so dirty and wouldn't come clean. They also broke easily but good thing they break down!
---
Pela has great environmental ethics; I ordered the wrong product once and instead of the cost and emissions of shipping back, they said to keep it and gift to a friend. I've been using their cases for years, and they're cute and ethical! I've dropped my phone a bit and it hasn't cracked!
---
Super durable and love the give-back mission attached to a lot of the designs, plus the (no-brainer!) closed loop for items like phone cases that usually end up in the trash or are unrecyclable.
---