Average rating from 125 users
Huge loss when I say that I'm recently gluten free, but BEFORE I WENT GLUTEN FREE, these cookies were to die for, and I love how chunky and gooey they are. I know that they also have a gluten free cookie, so I need to put that on my list of things to try.
---
It's a must stop in New York. The hood are always fresh and the cookies are to die for. Absolutely love. Worth the hype that these cookies get.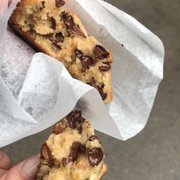 ---
---
Great cookies, but over the years, they're not as good as they used to be. Overall, they still hit the spot.
---
What is Thingtesting?
Thingtesting is an unbiased place to research and review internet-born brands — because honest reviews help us all shop better. Learn more.
---
Great cookies, but can only have one at a time because they're so rich!
---
Definitely worth the hype. I tried this first on Newbury Street in Boston and fell in love with them. The classic chocolate chip is a favorite for a reason with walnuts. However, I tried the seasonal chocolate chip for fall and wasnt a fan.
---
Best cookies ever! Expensive but SUCH a treat.
---
plain and simple, these cookies are insanely good. you can't go wrong with any variety - the oatmeal raison and coconut caramel are my absolute favorites, but the classic chocolate chip is a cult favorite for a reason. patiently waiting for them to open more stores on the west coast!
---
World's greatest cookies. 100% worth the price & the long line!! I am so happy to see that Levain has come to the West Coast. Hoping they make it to San Francisco too! These cookies are such a fun gift to give & receive. Their frozen & reheatable cookies are also shockingly good. Obviously not as good as picking them up from the bakery, but for a quick option they are the best out there!
---
I went in-person to Levain Bakery's Georgetown location where the staff was very friendly and the bakery was clean and the air was full of the smell of bread baking. I bought a two chip chocolate chip and a dark chocolate cookie. Both were dense and flavorful and would be best dunked in milk. However, I was most impressed with their baguette with butter and jam. I bought two to bring to work for lunch and they were delicious and warmed up well in the microwave. If I go back, I'll be picking up more of their baguettes.
---
Decided to treat myself on an evening out with a friend and I'm so glad I did. Absolutely worth the hype, super moist and chocolatey, the perfect sweet snack. Cute packaging too!!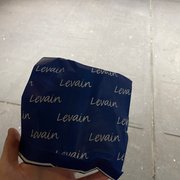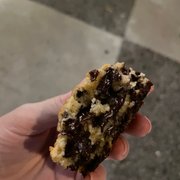 ---