Average rating from 95 users
I love the branding but it was just okay. It wasn't super easy to digest either.
---
These Vegan mozzarella sticks are AMAZING. My whole family loves them. We bake them to keep them from descending into complete decadence and they come out great. Melty on the inside, crunchy on the outside… basically vegan perfection.
---
---
I love trying new vegan and vegetarian products so I was excited for these plant-based "mozzarella" sticks but I just didn't like them. The "cheese" was fine but the cauliflower breading had an off-putting texture and the truffle flavor just didn't taste right. I tried them hot from the oven, then again later after they had cooled a bit, and I just couldn't finish them. I'd be willing to try something else from this company but I can't recommend these truffle-flavored "mozzarella" sticks.
---
What is Thingtesting?
Thingtesting is an unbiased place to research and review internet-born brands — because honest reviews help us all shop better. Learn more.
---
These little truffle mozz-style sticks could be the tastiest things on earth, and still the insane amount of packaging it apparently takes to ship these snackies to me would make me lose my appetite. It was unjustifiable, especially for me, who can take or leave these based on taste alone, and who doesn't have a problem eating actual vegetables. Personally, I'd rather eat my vegetables without the facade, but my husband, who forgets to eat vegetables, thought they were fun and tasty.
Feedback
Rein in the packaging, only ship bundles, or sell exclusively with retailers.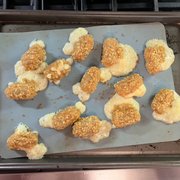 ---
I struggled with the unboxing experience and all the excess waste :/ They were good, but not something I'd buy off the internet, just easier to buy in store
---
This is a tough review for me to write but unfortunately this was a miss for me! I shared with my family and no one really liked them either. They smell great but it left a weird aftertaste, and the cheese texture just isn't right- it's kind of goopy and sticks to your mouth. I made this in an air fryer and the cheese was leaking out just after 5 minutes. Also dunno if I missed something, but there were no directions on how to heat up the marinara sauce, so I was kind of confused. I guess if you're vegan if might be fun to try, the packaging is fun and I love the brand's mission but I don't think I'd pick this up again!
---
Disclaimer: I tend to be VERY sensitive to high-fat foods. Taste and texture wise, these were great! The coating was crispy and perfect. I found that the cheese needed some time to cool after being cooked in order to be the right consistency. Being patient is hard but it was worth it. I didn't feel great around 20-30 minutes after eating, which was a real bummer. But my husband LOVED them! So if you aren't super-sensitive, these are an absolute winner.
---
Tasty but you get so few for the price. Definitely not a health food. Sauce tasted particularly sugar loaded.
Feedback
Not enough product to be viable and definitely not healthy based on the ingredients.
---
I eat dairy but my husband doesn't so I've tried quite a few of the vegan cheese products on the market & these are a favorite. The texture of the cheese is closer to a melty cheddar than mozzarella, but still convincingly cheesy. I think the flavor is great, you just have to be sure to hit the sweet spot in cooking time, so that the cheese is fully melted but not yet leaking out. I will definitely be repurchasing from this brand, in fact, I went to their site to try and place an order for a variety of their products but strangely couldn't check out. Seems like they have some work to do on their website. I did, however, find the "plain" mozzarella sticks at my local Wegmans, so it was nice to be able to snag a box locally. I'm looking forward to trying more of their options, like the meal kits.
---
Hoooolyyy 💩, I was planning to share these with my toddler but I took one bite and changed my mind because I am a monster. I felt guilty, gave him one bite, and then he kept begging for more so had to share anyway. These are so good, the vegan cheese is SO creamy. I'll for sure be buying more of these from Target.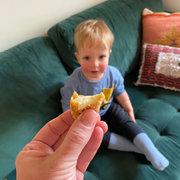 ---