Reviews
The Caker
Experience
A delightful experience from start to finish! The packaging is gorgeous, the directions are easy and clear, and the cake was perfect. I love the product idea, because I'm either buying boxed cake mixes that are so-so or I'm bending over backwards and using every bowl/pan/utensil in the kitchen to attempt a cake from scratch. The Caker provides the ease of boxed and the quality of scratch.
High quality
Tasty 😋
Luxury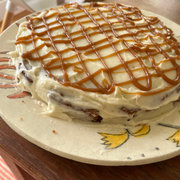 Nowhere Bakery
Experience
These treats are SO GOOD! As I have few to zero dietary restrictions at any given time, I don't usually go for the glutenfreedairyfreesugarfree alternatives to the "real thing," bc the latter is usually far superior. These baked goods, however, not only stand up to plenty of treats that are full of all that fun stuff, they're kind of their own thing. They don't taste like alternative brownies or crumbly maple syrup cookies, they taste like unique recipes. Also, I should mention: these are fresh baked! Excited to try new treats and see what else comes out of this kitchen.
Feedback
The whole packaging experience feels very small-time local bakery, which I know it sort of is, but I wonder if it could be a little more branded and elevated, esp. to reflect the price.
Good for gifts 🎁
Innovative product
Worth the money 💸
Tasty 😋
Love the brand's mission 💕
Juliet Wine
Experience
I honestly do not have a superior wine palette, so all I can say about the taste is that it is drinkable, and I did drink it. Apparently I did not drink the pinot fast enough because after a few days it did start to taste like grape juice. The sauv is nice and lasts longer in the fridge, but if we're making wine in a pretty box meant to be seen, it's a shame it's stuck in my fridge. Personally I'm more for the bottle in experience, design, and flavor.
Feedback
I do like shaking up the notion of boxed wine, I'm just not sure I understand enough of the "why" beyond it looks nice on the table. I also understand the commitment to sustainability, but could use more of an explainer on how this system is more sustainable than regular bottled wine. Or is it?
Wholly Veggie
Experience
These little truffle mozz-style sticks could be the tastiest things on earth, and still the insane amount of packaging it apparently takes to ship these snackies to me would make me lose my appetite. It was unjustifiable, especially for me, who can take or leave these based on taste alone, and who doesn't have a problem eating actual vegetables. Personally, I'd rather eat my vegetables without the facade, but my husband, who forgets to eat vegetables, thought they were fun and tasty.
Feedback
Rein in the packaging, only ship bundles, or sell exclusively with retailers.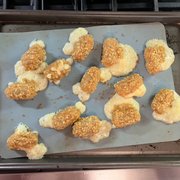 Mojo Microdose
Experience
The brain boosting gummies in strawberry tangerine are SO delicious and I *think* they work. The first time I took one I definitely noticed a pep in my step and in my mind; I felt really social and very on and bubbling with creativity. Subsequent uses were less strong, and now I can't even really tell if they are working. Perhaps my tolerance has risen and I'll have to try the extra strength brain boost.
Libre Skincare
Experience
Been using their cream moisturizer for a few weeks and have been loving it! As the name suggests, it is suuuper creamy and soft and lightweight. Deffo makes my skin feel dewy and bright. Looking forward to trying out other items down the line.
Leaf Shave
Experience
I think this product is probably great for someone whose needs it meets, but I found it to be too much for my everyday peach fuzz. I tried the dermaplaner on a couple areas on my cheek and neck (I get these weird whiskers), and found it to be too abrasive of a feeling (I'm in a self-care zone rn). My fuzz grew back stubbly and thicker. I also nicked myself, though unsurprisingly bc I'm a total newbie? Still, can't say that earns this product points.
GRASP
Experience
Unfortunately I'm not totally sure why we'd use this over a loofah. We couldn't really get a good lather going. Cute colors though! And my kid still likes to touch it and use it as a fun bath toy.
Cool look & feel
Has no effect 🤷
Clevr Blends
Experience
These are so tasty and incredibly easy to whip up. I especially love the Rose Cocoa Superlatte. A great alternative to coffee later in the day (bc who am I kidding, I'm still drinking coffee in the morning).
Good for gifts 🎁
High quality
Innovative product
Tasty 😋