Reviews
Wholly Veggie
Experience
So I've tried the Cheddar Style Jalapeno sticks and the Truffle flavored sticks and they were both mighty edible.
Feedback
My only complaint is the ratio of goop to crust was a bit off for me. (When I ate dairy) I was never a fan of stuffed crust pizza because it was too much goop for me so if you like stuffed crust pizza then you'll probably dig these.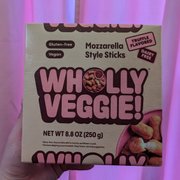 Jackfir
Experience
I like that this is basically scentless, it just smells like generic lotion. My partner and I use it in the evening since it's a bit heavier than we prefer for the daytime.
Feedback
It feels like it sits on my skin a bit more than other moisturizers but that may be more beneficial during colder weather.
Cool look & feel
Fun unboxing 📦
Love the brand's mission 💕
chelle body
Experience
This was okay but I do think the soapy stone thing was making artificial rolled skin flecks which is a bit annoying. It didn't make that much of a difference but I do think my skin was maybe slightly smoother. Those little green Korean scrubbies are much better though. However, I do really appreciate that it's made from canvas material instead of plastics.
Feedback
I think the canvas could have a bit more texture.
Futurewise
Experience
The branding is darling and the slugging cream was, as you'd expect, pretty greasy. But it was pleasantly greasy and not greasy to the point where it felt like you had Vaseline gooped on your face. This soaked in and my skin looked a bit brighter than normal after layering it on top of my retinol cream.
Feedback
An included scoop or spatula would be nice with the slugging balm.
Cool look & feel
Fun unboxing 📦
Amazing website
Love the brand's mission 💕
Thinx
Experience
I really like how these fit/feel and I contiue to wear the 4 pairs that I have but Thinx has been found to have PFA's in their undies. I think PFA's are in a lot of products we consume (i.e. sparkling water) so I try not to worry too much about it.
Feedback
Ditch the hazardous chemicals.
OLAPLEX
Experience
The No.5 bond maintence conditioner makes my hair SO BUTTERY SILKY SMOOTH. Almost too smooth because my hair is pretty thin and doesn't want to behave after this conditioner. Be prepared to wear your hair up the first day after using it.
Feedback
An option for bigger bottles at a discount would be mighty appreciated!
Seed
Experience
The branding is great and I love how sustainable it is but this made me SICK. So sick I had to call out of work! I had a migraine and intense brain fog that only lifted when I stopped taking it. I eat a vegan diet so maybe thats why it didn't work for my guts.
Feedback
I just don't think this is for everyone!
Innovative product
Eco-friendly packaging
Sustainable products
Love the brand's mission 💕
Fur
Experience
This didn't help much with ingrown hairs but it did make my skin (and pubes) feel soft. It also has a lovely strong earthy smell!
Feedback
The price point is too high
Cool look & feel
Has no effect 🤷
Smells amazing
Luxury
Glossier
Experience
All of their products smell great! The Glossier Body Hero feels soo luxurious and I always get so many compliments when I wear their perfume.
Feedback
Price point is high but worth it for their skincare. The boy bro wasn't great though. It took too long to dry down.
Good for gifts 🎁
High quality
Cool look & feel
Worth the money 💸
Luxury