Average rating from 77 users
Branding is cool but didn't really notice much of a difference in my eyes after using this for a few weeks. Maybe because I am older (and have some actual wrinkles), I need a stronger ingredient like retinol. I'm also not so into the metal applicator. I still want to see what they put out next and want to try their balm too.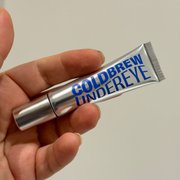 ---
The applicator is great! I didn't see a difference using the cream though.
---
---
I love Good Weird's entire brand experience. It's truly a delight - from the unboxing to product packaging, to the application and brand mission. I can definitely feel caffeinated eye cream working because it feels slightly tingly after application. I knocked one point off because I can't fully see the product working. It seems to work at first but I don't know for certain if it's working long-term. I'm interested to try their other products though.
---
What is Thingtesting?
Thingtesting is an unbiased place to research and review internet-born brands — because honest reviews help us all shop better. Learn more.
---
I was really pleasantly suprised by the applicator tip at first which I didn't know was hidden there in the packaging but in practice, the formula tends to cake up in it when dried and doesn't really help the product absorb into my skin. The main pro is that the applicator feels cool in the morning so that alone helps me feel like its waking up my under eye area (is that a thing? it must be because refrigerated spoons also work magic? am I just living a life of delusion?) Honestly can't say that much about the formula itself. It looks slightly shimmery under the light and I loved the branding of "cold brew undereye" which I thought would help with my designer eye bags but doesn't really seem to do that much? It's nice under makeup though!
---
Obsessed. It does a great job hiding fine lines, and I LOVE the applicator. I tent to have sensitive under-eye skin that reacts negatively with creams, but I have had no issues. I will definitely be purchasing it again!
Feedback
The applicator sold me, and I had no clue it existed until I opened the product. I think it could be a big selling point for people, so I would emphasize it more on the website!
---
Got the Cold Brew Under Eye Cream. I really wanted to love it. I have an under eye brightener from Ulta, and this I'm sad to say that this is not a strong competitor. As much as I love the idea of the applicator tip, it doesn't help spread or absorb the product into the skin as well as I would have hoped. The product itself just doesn't have that same sort of brightening or refreshing feel as my current under eye brightener. That being said, I adored the packaging, I love this brand, I love what they stand for. They just missed the mark with this product unfortunately.
---
Consistency was thicker than I thought (it says serum online, which tends to be more on the thinner/ liquidy side, but it's comparable to the feel of a face cream.) The applicator felt cool to the touch, and I felt like it did an okay job at dispensing the product. I plan on using this morning and night, so I'm curious to see how long the product will last.
---
I have some pretty dark under eye circles so I am ALWAYS looking for something that will make me look a little more alive. This is not that thing. I like the consistency of it and the slight tint to the product. I've been using it AM and PM and letting it really bake into the skin. But, sadly, I'm not seeing much difference in my under eye area. I looked just as corpse like as usual in the Target self checkout cameras. *sigh*
Feedback
The applicator wasn't really doing it for me. I love the concept but it wasn't working to smooth or spread the product so I just ended up using my ring finger (a lady at Sephora told me to always use that finger because it's the softest. Is that a thing??? I've been doing it for years).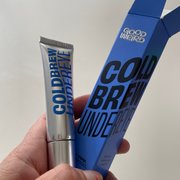 ---
I was really excited to receive this in the mail. The packaging was so cute, but it's true that the box was wayyy bigger than it needed to be to fit the eye cream. Overall, I think this is a good product to add to my skincare routine. I don't see a huge change in my under eyes, but it's fun to put on, and the packaging is really well done.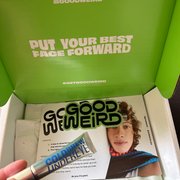 ---
Overall, I had a generally positive experience. The branding/packaging is on point. I love the gender-neutral and inclusive message. I just didn't find this to work particularly well and the "cooling" applicator thing has been overdone. I just didn't find it to be groundbreaking and I definitely didn't find myself to be reaching for it. That said, it was pleasant to apply and didn't make me break out. It was also moisturizing with no off-putting smell.
---