Everyday Oil
Everyday Oil creates plant-based, organic, botanical oils designed to be hydrating, cleansing, and nourishing.
everydayoil.com
Average rating from 24 users
96%Recommend to a friend
I've been a fan of everyday oil for years now. I love their scent and how it doesn't leave a sticky film. Their prices have gone up significantly however in the past two years. I still find their products lovely but not sure if it's worth the cost anymore.
---
Really unique and lovely scent. Lasts a long time. Good quality. The small size bottle has lasted me forever.
---
---
I LOVE Everyday Oil. I like to use it instead of a moisturizer post shower, but the product has so many possible use cases. It is not greasy, smells good, and makes my skin feel clean and hydrated. Big fan.
---
What is Thingtesting?
Thingtesting is an unbiased place to research and review internet-born brands — because honest reviews help us all shop better. Learn more.
---
I'm a huge fan, I started using Everyday Oil after my pilates studio had it in the bathroom after you wash your hands. I then became an avid user during my pregnancy, it's all I used on my pregnant belly throughout the full 9 months, slathering it on and feeling so nice. I also have used this is an oil facial cleanser and love their hand sanitizer. I have also used the unscented version on my baby's arms and legs, who suffer from eczema and this is very gentle and like I mentioned... I'm a huge fan. A little bottle lasts a while for me and large bottle could last almost 9 months. I love it. They have a new scent that is wonderful, started with their hand sanitizer and it is my favorite, otherwise I use the unscented. I love their sanitizer because my hands stay very clean and not dry at all.
---
I have been using this product a few times a week for months and will be repurchasing when I finally run out. I use it all over my arms and legs right out of the shower and also use it on the ends of my hair. It smells great and softens everything I use it on.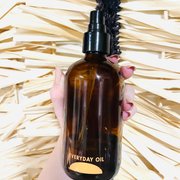 ---
A great all purpose body oil! I love the woodsy scent of Mainstay and the simplistic branding. I use the oil for my face and body (I know you can use it in your hair as well so I need to try that) and it's really become a difference-maker in the winter.
Feedback
More scent options!
---
Personally really enjoyed the smell of this and the simplicity of it. I usually feel like the "one-for-all" solutions are too much aimed at convenience and not function but I feel like this is great for a lot of different applications.
---
Didn't feel strongly about it either way
---
A coworker mentioned this to me, I happened to see it in a boutique the following day and figured "I'll try this, why not?" I really like it - I rub it all over my body and it's nicely moisturizing and hydrating with a strong scent that isn't overpowering. I'm not sure if I buy that it works for everything (face cleanser, body cleanser, shaving, bug repellant, etc.) so I'm not replacing the rest of my products with this.
Feedback
Refill program in SF please!
---
I use this constantly every time I come out of the shower. Right when I come out. So everyday. It makes my tattoos look fresh, skin young, and crisp. Love the feeling on me.
Feedback
Make a bigger bottle or a refresh station in NYC! Other than that, love the design.
---