Average rating from 43 users
Amazing selection, alright quality
---
These are the only press on that I've tried that actually stay on and let me continue my everyday activities. I picked up the blue checkered ones from target and received tons of compliments. They were easy to put on but did leave my cuticles feeling really sore for 24 hours but that might just be bc I was to aggressive in my application. They were difficult to take off so I recommend waiting until they are already starting to lift up before touching them. I ended up soaking them in warm water and then taking a dental floss under the lifted areas to remove them. My nails are slightly damaged but I was expecting that.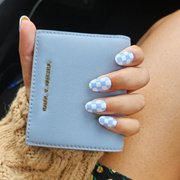 ---
---
Really intuitive to apply. Super fun selection of styles. If applied correctly, lasts about a week. This glue adheres really well, but it dries out in the bottle after a couple weeks, so don't expect to be able to re-use that part of the product.
---
What is Thingtesting?
Thingtesting is an unbiased place to research and review internet-born brands — because honest reviews help us all shop better. Learn more.
---
i've purchased chill tips for more than one wedding i've attended, and my life has changed forever. i used to spend upwards of $150 to get gel extensions with designs, which i absolutely loved, but my bank account did not. these are so easy to use, and at the price of a regular old manicure, it's so worth it. i've worn each set for almost a week and a half.
Feedback
really fun designs and many different nail shape sizes (i have tiny fingernails). i wish they had a few more classic or fancy options. also, it's a bit of a learning curve to use nail glue (i stuck all my fingers together the first time), so a video tutorial with tips for common mistakes would be really helpful.
---
Fave nails! Last for ages and look fabulous on :)
---
I love their press ons! Really fun designs and usually last at least a week.
---
The press-ons did not last on my nails more than 20 minutes. I put these on to go get a covid vax in march 2021 (glam!) and by the time i got into cvs i was already missing two nails. by the time i left, another 3 were on their last limb. I also really struggled to open the glue. cool designs though
---
If you use press ons regularly and you're looking for an upgrade in terms of design, packaging and application that doesn't feel... I don't know... stuck in the 80's... this is probably a good buy for you. If you're not a press on nail girlie and you're thinking this is an alternative to a Chillhouse mani or a salon manicure, it's not! These nails definitely are visibly plastic. If you want them to look less so, you'll need to file them into the right shape. There's a chance the filing removes the nail art as well, so it's sort of a toss up and depends on if your nail beds are the right size to fit their sizing options. I like these! I don't think I will buy them again because I'd rather not put glue on my nail and would rather pay more for a manicure. In a nail emergency they could be good.
Feedback
These tips are billed as reusable-- I'll just caveat that they are not. They're going to be gross and completely toast by the time they pop off your nail, which makes sense cause you're just gluing a piece of thin plastic to your finger. They do include extras for different sizing, so you might be able to get more bang for your buck by filing those into the right shape or size for your nail and using them up too.
---
Received a free product from Chillhouse
It was my first time wearing press-ons and doing them myself too! It was such an easy process once i got used to working with the glue (definitely a bit of a learning curve!). Naturally, it also got more challenging when i already had half of the nails on one hand, but i think they turned out great! They were so comfy and didn't snag onto clothes or my hair, even in the shower. I got so many compliments on them for the whole 2 weeks that I wore them and they looked perfect the whole time! The price is so good for what you get and the different designs are so unique. Definitely buying more in the future!
Feedback
I would love if the glue dried down quicker to avoid stickiness between the fingers!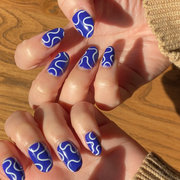 ---