Chillhouse
Chillhouse offers facials, massages, nail and pedicure services alongside a wellness cafe.
www.chillhouse.com
Average rating from 44 users
78%Recommend to a friend
Received a free product from Chillhouse
definitely a cool brand, I really need to visit their flagship location. I am an affiliate, but prior to being one, this is a brand I truly love and recommend, although the price is a little high, they are great nails for fun occasions and photos!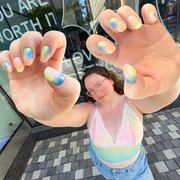 ---
Amazing selection, alright quality
---
---
These are the only press on that I've tried that actually stay on and let me continue my everyday activities. I picked up the blue checkered ones from target and received tons of compliments. They were easy to put on but did leave my cuticles feeling really sore for 24 hours but that might just be bc I was to aggressive in my application. They were difficult to take off so I recommend waiting until they are already starting to lift up before touching them. I ended up soaking them in warm water and then taking a dental floss under the lifted areas to remove them. My nails are slightly damaged but I was expecting that.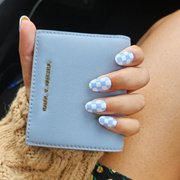 ---
What is Thingtesting?
Thingtesting is an unbiased place to research and review internet-born brands — because honest reviews help us all shop better. Learn more.
---
The press-ons did not last on my nails more than 20 minutes. I put these on to go get a covid vax in march 2021 (glam!) and by the time i got into cvs i was already missing two nails. by the time i left, another 3 were on their last limb. I also really struggled to open the glue. cool designs though
---
If you use press ons regularly and you're looking for an upgrade in terms of design, packaging and application that doesn't feel... I don't know... stuck in the 80's... this is probably a good buy for you. If you're not a press on nail girlie and you're thinking this is an alternative to a Chillhouse mani or a salon manicure, it's not! These nails definitely are visibly plastic. If you want them to look less so, you'll need to file them into the right shape. There's a chance the filing removes the nail art as well, so it's sort of a toss up and depends on if your nail beds are the right size to fit their sizing options. I like these! I don't think I will buy them again because I'd rather not put glue on my nail and would rather pay more for a manicure. In a nail emergency they could be good.
Feedback
These tips are billed as reusable-- I'll just caveat that they are not. They're going to be gross and completely toast by the time they pop off your nail, which makes sense cause you're just gluing a piece of thin plastic to your finger. They do include extras for different sizing, so you might be able to get more bang for your buck by filing those into the right shape or size for your nail and using them up too.
---
Chillhouse nails are a vibe! This was my first ever time wearing press-ons and I was actually so impressed with these. They stayed on for weeks (I used a lot of glue…) There was nothing tacky about these and they come in a tasteful length even before filing them down. The process does take some getting used to (hello gluey hands.) The worst part really is that they don't really all want to come off at the same time so the removal period is a bit of the pain.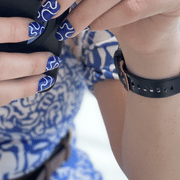 ---
Received a free product from Chillhouse
It was my first time wearing press-ons and doing them myself too! It was such an easy process once i got used to working with the glue (definitely a bit of a learning curve!). Naturally, it also got more challenging when i already had half of the nails on one hand, but i think they turned out great! They were so comfy and didn't snag onto clothes or my hair, even in the shower. I got so many compliments on them for the whole 2 weeks that I wore them and they looked perfect the whole time! The price is so good for what you get and the different designs are so unique. Definitely buying more in the future!
Feedback
I would love if the glue dried down quicker to avoid stickiness between the fingers!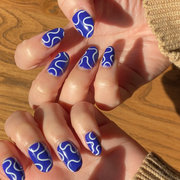 ---
I was surprised how easy these chill tips are - and it came clutch for my friend's wedding. I bought the french nails and I thought it was funny and surprising that everyone asked where I got my nails done. I felt amazing in them. I also like that I can reuse them, and shave them down when I need to.
Feedback
The sizes on these tips! I feel like I have way too many large sizes for me in a box that I feel bad for not needing to use once. I wish there was a way that I can donate these sizes back for other humans to use, otherwise they're going in the trash :(
---
I've purchased Chill Tips at Urban Outfitters in the past and love the cute styles they offer. The nail designs are always adorable and trendy. I had no issues with application, and they stayed on for as long as the other fake nail brands I use.
Feedback
They're double the price of most other press-ons.
---
I've been using Chill Tips on and off for about a year. I love the designs, but sometimes I can't get all of the tips to stay on for more than a few days. Usually one or two will fall off within the first 2 days. I'm wearing my current set and 7 of them have stayed on for almost a week, but 3 have popped off a few times. Overall, the price is great and assuming the 'pop off' issue is user error, I love these!
---