Troomy Nootropics
3.93 • 86 Reviews
Troomy Nootropics sells triple-extracted mushrooms in gummy form to support various bodily functions.
troomy.com
Average rating from 86 users
82%Recommend to a friend
Troomy Nootropics Reviews
All

86
Troomy

8
Troomy+ Shine

8
focus

2
I just received some samplers in my GQ box yesterday. They taste good and have a translucent cube shape. It is hard to tell how effective as I only received two samples (focus and cordyceps ) with two gummies.
---
I just want to say that I wait until I have a full experience before I review something. I don't take it one day and then fire something off. I waited until I was fully done with the bottle before reviewing. This stuff is bomb! Tastes great and I saw improvements in my hair, skin and nails. I will be purchasing again.
---
---
Finally, a freaking gummy that tastes good (and it MIGHT be because of the 8g of sugar) but I'm impressed by the taste and texture. They're a bit sticky but I guess that's better than having to be coated in something powdery to prevent anti-sticking. First impressions are high and I will definitely be finishing this bottle and trying some other flavors (if I do indeed see a change in my skin)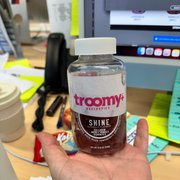 ---
What is Thingtesting?
Thingtesting is an unbiased place to research and review internet-born brands — because honest reviews help us all shop better. Learn more.
---
I snagged the Shine gummies during Thingdrop! While a tad sticky, these ACTUALLY taste really good :) I look forward to popping my daily dose because the flavor is so addictive. I'm also in the process of giving my nails a bit of a break after some serious damage from a ton of back-to-back manicures and while I've only been using these gummies for a little while, I'm happy that I get a good dose of Biotin and Collagen each day. Overall, I think this is a great product and I'm excited to continue using it to support my skin/hair/nail health as the weather gets colder.
---
Delicious and effective... so much so that my wife refused to share! We only tried Focus so far but it was terrific and we'll be expanding our experience with the others soon.
---
The gummies are delicious (sugar definitely helps with that!) but I've always had a hard time seeing if collagen/biotin is actually making an impact on my hair. I'll keep trying these to see if longer use makes a difference, but after almost a month I haven't noticed anything yet!
---
I am a huge fan of nootropics and really like the college aspect in Shine. They taste pretty good for vitamins, but they are very sticky. I haven't been taking them long enough to see a difference, but I have high hopes they will work out fine
---
Delicious, and I truly felt more focused after a dose. Does not taste like mushrooms.
---
The focus gummies taste pretty good! The texture is really jelly-like and soft. Can't say I can notice the benefits, but might just be me.
---
Loved the focus gummies! My only complaint is that they got really sticky overtime in the bottle and kind of clump up, but that's very minor. They were great tasting and really helped my focus throughout the day!
---