TexTale
Experience
Nice fitting basic t-shirt. Easy to brush pet hair off it. Packaging feels excessive for a simple piece of garment, would prefer to pay less and receive the t-shirt in a simple eco-friendly sleeve.
Cool look & feel
Everyday wear
Athleisure
Fit just right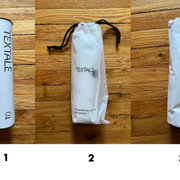 chelle body
Experience
The exfoliating stone doesn't seem to transfer to the mitt no matter how long or hard you rub it against the mitt. It is very much like a polished piece of limestone. As a test, I used the mitt with and without rubbing the stone against it and didn't noticed a difference. The mitt is nice, made out of a thick muslin-like canvas but it's not worth $30. I think there are better exfoliating mitts out there.
Feedback
Exfoliating stone doesn't do what they claim it does.
Lovely customer support
Has no effect 🤷
Health-ade
Experience
The couple of flavors I have tried are great, not too sweet. Great source of probiotics you can feel the benefits almost right away. The bottles look great, I have repurposed a few.
Boxed Water is Better
Experience
The water tastes like the box. The only appeal would be it's sustainable packaging, but while I appreciate less plastic use, it's still not really eco-friendly.
Le Labo
Experience
Everytime I wear this fragrance I get so many compliments. It lasts all day without being obnoxious. Well worth the money!
High quality
Worth the money 💸
Smells amazing
Luxury
Sonos
Experience
Decent sound, although not the best, a little too heavy on the bass. Glitchy interaction with smart assistant.
Feedback
For the price, there are better options out there.
Jackfir
Experience
The moisturizer feels really good on the skin, it's thick and substantial but has a really great matte finish. The moisturizing effect lasts all day. It's a little more expensive than your average moisturizer but the finish is worth it to me.
Feedback
The scent is hyped through the packaging, but none of the notes come through, it's more of a subtle, slightly chemical smell, doesn't bother me but definitely not the sensorial experience they tout.
Motif
Experience
This feels more like a mask and less like a cleanser as it doesn't wash away completely. Whatever does stay in your face feels pretty thick, but does leave a velvety, moisturized feel. I worry the thickness impacts the absorption of my serum. The packaging is very nice, very similar to Oribe's.
Feedback
The smell is not for me, while not overpowering it's reminiscent of old/expired cosmetic. No fragrance would be better. The cleanser needs to be washed out with cool water, which means you can't use it in the shower, not convenient to use twice a day as recommended.
Futurewise
Experience
I have never practiced slugging, it was strange applying this thick Vaseline/Aquaphor like balm to my face. I was certain I would wake up in the middle of the night with my pillow case stuck to my face but somehow the product absorbed without leaving any tackiness. Skin feels great in the morning. No breakouts, not pore clogging. One week in, still feel weird to apply such a thick, greasy substance to my face but it works as advertised!