Topo Chico
Topo Chico makes sparkling mineral water sourced and bottled in Monterrey, Mexico
www.topochico.com
Average rating from 60 users
91%Recommend to a friend
My absolute favorite water! The lime and grapefruit are great, but the plain mineral water is my favorite. HIGHLY carbonated light a soft drink. This makes a great replacement for anyone trying to drink less sodas. I always make sure I am fully stocked on these at home!
---
---
10 out of 10 every single time. Perfect amount of carbonation. I saw grapefruit at the store last week, but they were only selling in a 12 pack. I am very excited to pick it up regular :)
---
What is Thingtesting?
Thingtesting is an unbiased place to research and review internet-born brands — because honest reviews help us all shop better. Learn more.
---
Like the glass bottle and overall taste of this product. Refreshing and gets cold fast in the glass bottle.
---
Love the crisp, bubbly, and refreshing water.
---
THE BEST seltzer water out there! The bubbles are so good. I use them in my cafe. I love their spiked topo as well.
---
My favorite sparkling water! Not overly carbonated & I love their new flavors & alcoholic version. These pair nicely with tequila & lime to make Ranch Water cocktails!! I really like that these come in glass bottles.
---
Crisp and refreshing. Best carbonated water I've tried!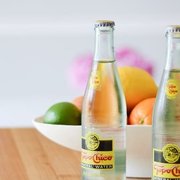 ---
I know I'm in the minority here. I just don't get the hype! I also found their flavored alcoholic ranch waters to be just disgusting. Way too sweet!
---
my favorite brand of sparkling water! It has the perfect amount of carbonation and is super refreshing on those hot days. I love to add this to my nonalcoholic drinks or by itself with a lime.
---