Rootless
3.05 • 22 Reviews
Rootless makes whole-food nutrition bites that combine dates, almonds, and seeds with seaweed to provide essential nutrients and minerals.
www.getrootless.com
Average rating from 22 users
43%Recommend to a friend
Love getting my seaweed. Taste was not bad! Maybe a little room for improvement with the texture and flavor combination. It could use more salty seaweed and sweet chocolate flavor to mask the almond and date taste imho. I tried the Cocoa Crunch; it's still pretty good... Looking forward to trying new flavors!
---
No lie I gagged and vomited from the taste. Extremely shocking as I expected wonderful things from the product but was unable to swallow and left very disgusted. I had to throw away $47 of product as no one in our household found this edible. Unsure how you can make a product so disgusting without having just dumped dish soap in which is how it tasted - like soapy soap
---
---
A little underwhelmed by this product. I bought it with a Thingdrop discount and was excited to try, though I am not sure I would have otherwise ordered it. I actually thought the taste was fine, and it definitely grew on me. It sort of became crave-able. But I don't notice any sort of difference in regards to anything it advertises, and weighing that against the cost and environmental impact, it's a pass for me. ADDED NOTE: a couple weeks in, and these little nuggets got stale. With just a few left, the taste has basically disappeared. Not the most shelf-stable container apparently.
Feedback
Savory flavors are not a bad idea! But really I think there needs to be some sort of packaging in between, where it can feel premium but still include less.
---
What is Thingtesting?
Thingtesting is an unbiased place to research and review internet-born brands — because honest reviews help us all shop better. Learn more.
---
I have iodine deficiency (thyroid struggle is real) and usually I have to sprinkle seaweed 🌊🌿 on everything I eat which isn't always a flavor I want to experience haha. It's so nice to get most of my iodine in a natural way in one delicious bite. Will report back in a few weeks! Reporting back after 22 days, as promised. My iodine levels are good and my iron went up a bit which is fantastic and curious. 🥼🩺 I feel less fatigued and my skin is less dry 🌟 - I haven't changed anything else in my life significantly. BONUS: I have tried all 3 flavors of rootless and here's my expert and entirely personal opinion:😋 1. pistachio orange 2. coconut chai (pro tip: let the bites aerate for a few minutes after first open) 3. strawberry
Feedback
Founder mentioned she's already working on this but would love an option without allergens (sesame seeds).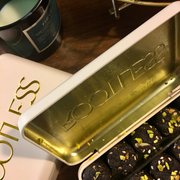 ---
I ordered the double strawberry flavor and I think they taste nice. It's sweet, salty and honestly a little decadent. Only a slight hint of seaweed. The texture is akin to a dried fruit or date and nut bar which I personally love but is something to keep in mind. The metal tin they come in is stunning and I look forward to reusing it for something else once I finish the supplements. Overall I like the taste, texture and packaging but I personally will be following the companies suggestion of eating one in the evening as a sweet treat rather than in the morning with my other vitamins because these are 40 calories for one which is much higher than any other vitamin/supplement I've tried. *editing to say that I was super busy and didn't finish them for 60 days and they did dry out quite a bit and lose a lot of their flavor. If you are buying them definitely try to use them within 30 days.
Feedback
Selling a larger size container for couples, roommates, families would prevent having to buy multiple tins each month which takes up a large amount of cabinet/counter space. *Also after realizing they dry out if not used up within 30 days I would suggest a more air right packaging solution.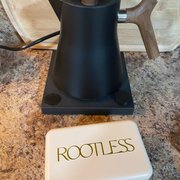 ---
I tried their double strawberry flavor! I was excited to try these myself after our team put the brand on my radar. The sustainable tin packaging and beautiful branding really sold me, so I purchased a box to test for our Tiktok account. Unfortunately, the bites were extremely dry and not tasty to me in the slightest :( I gave them a couple of tries to see if the pieces were just inconsistent, but that wasn't the case. I should also note that I am really not the biggest fan of nuts in general, but I was expecting the overall bite to taste a lot better than this. I will be repurposing the tin though!
Feedback
I really wanted to like these and wish that they just simply tasted better
---
Picked these up during a #thingdrop and have been pleasantly surprised how charming these little things are in the morning with my coffee. I'm not much of a breakfast person during the work week, so these are perfect little bite to start the day. I love that I can just keep them on my desk. I remember reading a New Yorker article a few years ago about how seaweed (or was it kelp? are they the same thing?) could revolutionize food consumption, waste, hunger, etc. so I totally buy what Rootless is selling.
Feedback
I will say the taste and texture reminds me of the "dessert" I was once served on a Russian airline in that it is not sweet and the texture is literally dirty--that of dirt. But they are cute! I like them!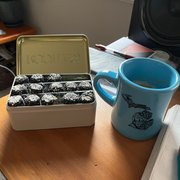 ---
Ordered this through ThingDrop and was excited to try it. Flavor sounded good, packaging and branding is gorgeous. However I was a bit underwhelmed by the actual product. I thought it smelled like a freshly unwrapped fruit by the foot, however tasted really off. It was dry and underwhelming. I will caveat this that I don't love seaweed snacks, so there's something there. But boy did these smell great. I do love the sustainability mission with the ingredients and the refill product.
Feedback
I found that it was hard to take the bites themselves out of the box they came in. On the taste side, I really would love for them to taste as good as they smelled. I was bummed for sure.
---
I like it in concept, but dont see myself eating these on an ongoing basis. I dont have a good sense of why the seaweed is so beneficial, so it sort of just feels like a (sort of) yummy snack to eat in the afternoon so I don't eat a bar of chocolate instead. The flavor is okay (I got the chai) but a little dry. Cute branding. The packaging and shipping experience was lovely.
Feedback
Help me understand why I NEED to be eating seaweed every day.
---
Order and delivery were quick and easy. Packaging was really lovely, I'd like to keep using the box in the future. I enjoy seaweed and am interested in supporting the cultivation of seaweed for multiple industries so I was excited to try these. I got the Coconut Chai flavor and its fine. I taste both Coconut and Chai, but I don't think the flavors blended super well with each other or with seaweed. It's not integrating well into my daily routine. I found myself wishing for a savory or salty flavor because this flavor felt like it didn't quite work. I do not notice any change in energy or health after taking these.
Feedback
I would like some savory or salty flavor options. And I'd like sustainble refill options, where you get a box initially and then can get refills in a compostable/recyclable package.
---