Average rating from 48 users
82%Recommend to a friend
Feels great on the skin, and really helps stay moisturized. The process of hydrating the pills is a little annoying and the pills + bottle makes storing these a little cumbersome. If you use these twice a day, a pack of 32 will last you 16 days, you'll end up spending $60/month which is VERY high compared to other options in the market.
---
It's hard to tell if these are effective or not yet, but I do like them. The only problem I have is with the amount of wasteful packaging for a product that has the potential to be so much more sustainable. Individual tablets, in a pill pack, in a box, plus the plastic water dropper bottle just seems so excessive. The plastic bottle is not needed, as you can just use a few drops from the sink. I'd buy these if they came in a jar like Bite, but right now cannot justify the excess waste.
---
---
I actually like the individual freeze dried cubes. I had no problem mixing it with water in the palm of my hand. Feels good going on and I swear I saw a difference in my skin the next day. Bear in mind I had only been using moisturizer and no serums prior to this one. My acne went away with in a few days and my skin looks better. I am 53 years old and had recently been experiencing acne again for the first time since my teens. All that said I gave 4 stars because the price is quite high, when I look around for niacinimide elsewhere I can get it for less, but time will tell if the less expensive works as well and as fast as this did. It might be worth it.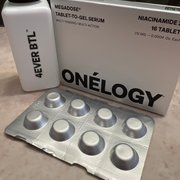 ---
What is Thingtesting?
Thingtesting is an unbiased place to research and review internet-born brands — because honest reviews help us all shop better. Learn more.
---
I really like the concept of this but when it came to my own hands, I didn't particularly care for the use of the forever bottle. Anyway, I thought this would be a great option for travel and even for my moving so much with the military, many of my liquids don't make the move, so I was drawn to this being water activated. That's where the forever bottle comes in--why not just use drops from the faucet instead? I feel like the bottle itself is a waste. Anyway, the product itself was really nice, albeit pricey for cost breakdown. I felt it dissolved in to the gel nicely and evenly and there was enough to cover my face generously. Anyway, back to pricing--this is expensive if I was using it every day. I think it is a great option to save space for travel but a little too wasteful and costly for it to be a part of my daily routine. I did really like trying it and will purchase for people I know that are often on the road or are limited on space.
---
Received a free product from Onélogy
I got niacinamide from them and I LOVED IT!! I love the mission for the environment and I love how easy it is to travel with!
---
Not my favorite product. My biggest challenge was thinking this would be an eco-friendly brand, and being wildly disappointed by the amount of packaging. I agree with other reviews that this wouldn't replace any product in my routine and wouldn't be the easiest method for travel. I especially wish that there was no "Forever Bottle" sent with the product, as now I have to find a way to re-use it, or it's another wasted item. I like the overall idea and concept (hence the 1 star), but think there is still room to innovate the packaging and develop new products!
---
Received a free product from Onélogy
I love the concept and the packaging was super cool.... but am I the only one a bit confused on how to apply the product? I tried the peptide tablets and followed the directions: fill up the bottle with water, place tablet in your hand, and put 6-8 drops on water on the tablet so it dissolves. What was left was a small puddle of liquid in the palm of my hand (not really a gel consistency...?) Then when I scooped the liquid off my palm and tried applying it, it wasn't enough for my entire face. Then a few minutes later I saw that I had some sort of residue on my skin - I guess I didn't add enough water??? Idk, I'm confused. I feel like the tablet dissolved in my hands before I had time to apply it to my face. Maybe there's a learning curve to using the tablets that I haven't mastered yet, so it'd hard for me to say if the product worked or not.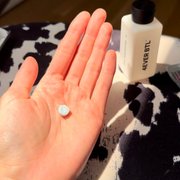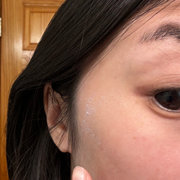 ---
Like many of the other reviews say, I imagine that these would be best for travel. However, I find it way too inconvenient to use on the day-to-day, especially when each tablet is just a single skincare ingredient. I'd rather just have a single serum with everything that I need in it, and I'd like it ready-to-go in liquid form. I also find the application of the product to be awkward. I have to swirl around the tablet with water in the palm of my hand to create the liquified solution. Then, I kind of have to apply the product onto my face with my palm instead of my fingers to make sure I'm actually using all the product that was sitting in my palm. Very specific usage problem.... but it's what I found most frustrating. I think I'd revisit this brand if they ever come out with multi-ingredient tablets that work towards specific skin concerns.
---
Ok these are *cool*. Onélogy has been on my radar for a bit, but I wasn't convinced it was something I needed in my life, not to mention my embarrassingly extensive serum backlog, but when they're a Thingdrop, who could resist? These are *perfect* for a particular use case for me. I'm starting to warm up to the idea of travel again, and the worst thing for me as a dedicated one-bag, carry-on-only flier was fitting my skincare routine into that little bag that's allowed by TSA. These clever little tabs will allow me to bring *multiple* serums, and they are totally dry! I was really surprised by the texture of the serum doses, imagine a thin round of foam, like someone hole-punched a takeout container. With the addition of a couple of drops of water (*love* the little included bottle!!), it magically transforms into the perfect amount of thick serum. I haven't used them enough to vouch for efficacy, but I have no doubt that they'll preform well. Im sold. These things are perfect and I'll never travel without them.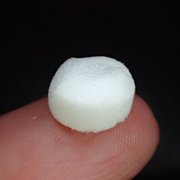 ---
Edited: I found a good use for these, I add one to a skincare product that does not have this ingredient, which is indeed useful. Original review:Interesting idea, but I would not purchase again. If this was a multi-active product perhaps... but 2% niacinamide is a staple ingredient in many of the skincare items I already use, so having a standalone is not something I need to purchase. Theres a whole lot of packaging (and shelf space) used by this product; the plastic "forever bottle" will last forever in a landfill but I'd rather just use a few drops of water from the faucet.
---