Average rating from 48 users
The paloma flavor is sooooo delish, and I'd love to try others.
---
I'm a huge fan of mezcal. I've been to Oaxaca a handful of times and fell in love with their passion for making mezcal, and tasting the different varieties. Aside from that, I'm not a big fan of alcohol and how it affects me. With that said, I was super excited to try the Little Saints St. Mezcal and must admit I was wildly disappointed. I find it very off putting that it's quite sweet from the monk fruit. I will have to try it with their recommended recipes to see if it can be made more palatable, but it's a big miss as a mezcal replacement.
---
---
I purchased the n/a mezcal as part of a thingdrop discount and was a bit worried after seeing the reviews about the cocktails being sour or overwhelming in flavor. I will say that the mezcal was and is amazing! I've been having it with some margarita mix and it really elevated that flavor. It's really gingery and smooth from the Palo santo which goes great with the sweet lime margarita mix. I am sober and always willing and wanting to try new non alcoholic options and this is easily one of my new favorites! 🥰
---
What is Thingtesting?
Thingtesting is an unbiased place to research and review internet-born brands — because honest reviews help us all shop better. Learn more.
---
Noticeable effects depending on the dose! Get a real solid brain buzz from this. It has helped fuel me to do a couple of hours of work while I'm tired at night. On its own, it's a good simulation of mezcal. Mixed in as a mocktail, the "alcohol burn" is pretty good. That being said I do drink mezcal and if I want a mezcal this wouldn't quite do it for me. It's really about expectations and what you're looking for. It took me half the bottle to decide how I felt and what I wanted it for. I'll get tired if I have a drink and have to finish up work at night, so I don't do it. But I want one after a long day - so having something tasty and functional to energize me instead of deplete me is a win.
---
I tried Little Saint's mezcal alternative and loved the taste! Very smoky, and similar to the real thing. I don't notice any difference from the botanicals they add to supposedly enhance your concentration or relaxation, but I also didn't really expect to. Maybe those effects are meant to be cumulative, or they're just subtle, but I don't find that I notice them in other brands products either so I don't think it's a failing.
---
Love the newest N/A spirit St. Mezcal. I usually don't love mezcal as it is too Smokey for me, but this is the perfect blend of an earthy, spicy spirit. It's delicious on its own or mixed in a mocktail! It's become a staple on my bar at home.
---
An interesting flavor profile that I really enjoyed! It makes for a great mocktail but also is a nice mixer if you wanted to add a little alcohol.
---
I got my hands on this product through Thingdrop, and let me tell you, it did not disappoint! It's a fantastic addition to my collection and it makes incredible drinks. I'm excited to explore more recipes and see what else they have to offer. I went for the St. Mezcal one, and it was absolutely amazing! Definitely worth giving it a try!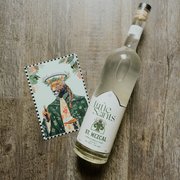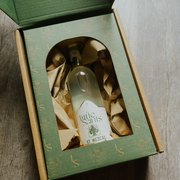 ---
got the mezcal through thingdrop and wow! I'm impressed, it has a slight woody flavor that comes from the palo santo but very smooth. I'm so excited to make more drinks from it!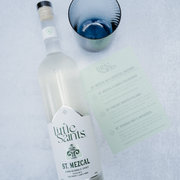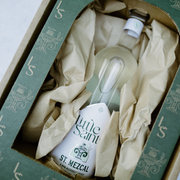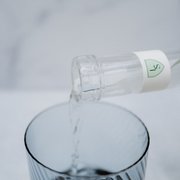 ---
I have mixed feelings about this product, sometimes liking it and sometimes finding it just okay. Recently, I received the St. Mezcal from Thingdrop, and overall, I'm impressed with its packaging and quality. However, I want to point out that the name "mezcal" might be misleading for avid mezcal enthusiasts, as it lacks the distinct smoky flavor commonly found in most mezcals. Instead, the flavor profile leans more towards a minty wood taste with a hint of ginger's burning sensation. Despite this, I genuinely appreciate this product, especially when using it to make mocktails. It stands out as one of the best non-alcoholic beverages I've ever had and would be delightful as an inspiration for a refreshing cucumber spritz drink.
---