FabFitFun
3.07 • 56 Reviews
FabFitFun offers a subscription box that delivers full-size, premium products intended to promote happiness and well-being, delivered 4x per year.
www.fabfitfun.com
Average rating from 56 users
Cancelled my subscription on July 30. They reactivated it and billed me again. Cancelled again and disputed the charge through PayPal. Paypal denied my claim. FabFitFun admits they cancelled the shipment but refuse to refund my money. Trying to coerce me into dropping the dispute. Even lied and told me refund had been processed. DO NOT SIGN UP WITH THESE PEOPLE. THEY ARE COMMTTING INTERNET CRIMES!!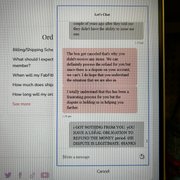 ---
Talk about a bummer. I got the annual subscription a few years ago and loved it. I just re upped and got another annual subscription and I bought it when the option to edit the box was CLOSED. A while later I receive a box of whatever they had leftover including hair care products and I AM A BALD WOMAN. I was so ticked. Then to make it "better" they send me a box of absolute shit. Really sad because I remember loving this subscription and now I'm stuck getting 3 more boxes of crap. Do not buy. Their golden years are over and they suck now.
---
---
I have been with them for a number of years because the Edit sales can be good. A box or 2 a year will stand out but they keep raising their prices and the quality hasn't improved. The shipping has always been horrible. By chance I found out they were over taxing me for FOUR YEARS and must have just pocketed the money. My state doesn't have state tax for apparel and although I have brought it up NUMEROUS times they have never refunded me. They have emailed that I would earn credit when they were out of an item...I would never receive. They guaranteed FedEx would ship out my boxes and that wouldn't occur either. A lot of words and promises to get you in the door but no customer service to actually keep you.
---
What is Thingtesting?
Thingtesting is an unbiased place to research and review internet-born brands — because honest reviews help us all shop better. Learn more.
---
Stay away. If it seems to be good true, it probably is. You maybe get a couple good items (if that) and the rest is junk. Also, view their shop and add ANYTHING to your cart and don't remove or check out, don't worry they will check out for you! Then you will get surprised with a charge on your account. Literally had a couple dollar face mask in my cart I didn't remove and it auto shipped and charged me $8 shipping . Customer service is useless.
---
I received a few of these boxes as an Influencer & while the price is fairly reasonable for the number of products you'd get in each box, I felt overall it was a box full of things I didn't necessarily need or use. Some of the products were great, but the majority seemed a bit random. It also seemed like they tried to hook you in the subscription platform by making the first box really good & the boxes following were subpar. It could make for a fun gift, but I personally wouldn't buy in.
---
I had seen this subscription box advertised for years so I finally broke down and ordered one. Like others have said, maybe all the good stuff is gone by the time the options open for the monthly members (over the annual members), or maybe they have started taking shortcuts but the box I received had hardly anything in it and none of it added up to being anywhere near the price of the box. I was very disappointed but I will give it one more try before I cancel.
---
I was a member for a year, and it was really hit or miss! I found the boxes to be geared toward products I didn't necessarily want to buy. I also found that a lot of the items were cheaply made (and sometimes broken). I will say the ability to shop from the marketplace almost made it worth it to keep subscribing.
---
It's fun to get a surprise, but I often found myself disappointed in many of the items. It feels like a waste to get random stuff I won't use.
---
Good accessories, makeup and gear.
---
Have always adored this brand! Incredible products - the value is most certainly there for the cost. The additional benefits are great too - being able to select a few products per box, having access to their "warehouse sales" of products, etc. Really awesome if you like exploring new products but hate shopping the digital (or IRL) aisles yourself. Highly recommend!
---