Average rating from 17 users
100%Recommend to a friend
Super high quality and sturdy! We've had ours for a couple of years and it still looks and works great! I think they will last a long time
---
I received a few items from Made In for christmas & I love them. They are such high quality at a great price. I will definitely be buying more to complete my collection
---
---
Non stick that's non toxic. Works really well. WAY lighter than cast iron. I have the pan. Can't wait to get the griddle.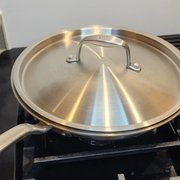 ---
What is Thingtesting?
Thingtesting is an unbiased place to research and review internet-born brands — because honest reviews help us all shop better. Learn more.
---
Exceptional quality - for the real chefs professionally or in the home
---
Exceptional products! The carbon steel pan is lightweight and cooks things excellently and evenly. I was skeptical of the claims that the dinnerware doesn't get scratched, but I've had mine for almost a year and they are good as new. They're expensive but worth it and I'm slowly building my collection.
---
Great quality of the steel. Easy to clean easy to use
---
Made In makes excellent cookware. If you are getting serious about cooking, look into getting cookware from Made In, but only if you also take the time to learn how to properly cook with and care for them.
---
I own several Made In products such as the chef's knife, 8 quart pot, skillet. At my business, we use the entrée bowls, dinner plates, side bowls, side plates and wine glasses. With every product, I have been impressed with the durability, design and function. I will continue to buy and recommend!
---
When I last moved states and finally decided to throw out my cheap old pans that were well past their prime, I decided to invest in a good set of cookware. With all of the new cookware companies coming into popularity a couple of years ago, I wanted to make sure I was going to get something reliable and well worth my money, but still somewhat attractive and functional. I've had my MadeIn pans for at least 3 years now, and they work just as well as the first day I got them (compared to a certain trendy pan I have as well which I barely even reach for now). Everything I've gotten has been high quality and I'd recommend them to anyone!
---
Love my Made In copper cookware. I have other Made in cookware pieces including knives, pots, rolling pins, and their cutting board. All of their kitchen tools are fantastic!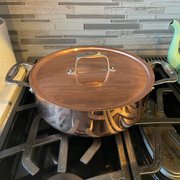 ---