Average rating from 28 users
92%Recommend to a friend
I really didn't like these, but really wanted to. I've tried a couple products and they were really unappetizing. The texture and taste not good.
---
You won't believe it, but I made the switch from being a non-vegetarian to a vegetarian, and let me tell you, this plant-based chicken is a game-changer! The texture and flavor are so incredibly close to the real thing, it's like they're long-lost siblings. I was absolutely amazed by how authentic it tasted!
---
---
Seared very similarly to regular chicken! Tasted great too :)
---
What is Thingtesting?
Thingtesting is an unbiased place to research and review internet-born brands — because honest reviews help us all shop better. Learn more.
---
I love that Daring makes vegan "chicken" that looks and tastes like chicken without all of the heavy breading. It cooked easily on the stovetop. I diced it up and made homemade "chicken" soup with it one day and, on another occasion, I grilled it and then added it to my "chicken" pot pie and it was delicious. I like the original flavor better than the lemon one.
Feedback
Nice vegan "chicken" alternative without all of the breading.
---
Overall, not bad! I got their chicken tenders from Monty's Good Burger. The texture was like..... wet bean curd (which sounds a lot worse than it is), but I enjoyed it.
---
Daring lived up to the hype! I loved the flavor of the Cajun product. The texture was also on-point. Well done to Daring for nailing plant-based chicken!!!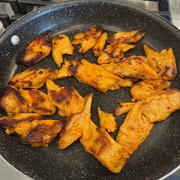 ---
As a former chicken eater, I find this product an excellent replacement! I really like all the flavors they have to offer, but the breaded chicken is by far the most favorite in our household. Just throw them in air fryer and in a few minutes, a healthier version of "fried chicken"! The other flavors that are unbreaded substitute really well for any place you would normally use chicken. We just made Italian white bean and kale soup and added lemon-flavored chicken bits into the soup --- really good! It has the same texture as chicken, breaks apart along the fibers like chicken, but the most important - no chickens are harmed and production is lot more sustainable than breeding chickens. Out of all the chicken substitutes I've tried, this one is by far the best replacement!
---
Daring makes some of my favorite fake meats currently. It's flavorful and easy to eat in wraps, salads, or just with dressing.
---
This is life-changing!!!! I've been a vegetarian for 11+ years and this is, by far, the best meat substitute I've ever tried. The Cajun flavor is a staple in our home, I'm making quesadillas with it tonight. I also love using it on a Caesar salad. I recommend this to everyone and truly believe it could convince the world to go meatless. It's so good I'm actually slightly terrified it's real chicken sometimes… The only con is the high price point! I wish we could make a meat free lifestyle more accessible.
---
Love their cajun ones! Definitely the closest to real chicken as you can get. Their website also has a lot of good recipes if you need inspiration.
Feedback
I wish they came in bigger bags. We go through them so quickly in our house!
---