Stojo
Stojo designs collapsible and reusable cups, bottles, and food storage containers.
www.stojo.co
Average rating from 28 users
78%Recommend to a friend
The easily collapsible cups have been a staple. I've had them around for years, a brilliant one for travel and road trips. It's spill proof and keeps your coffee or tea hot. The designs are beautiful and they come in great colours!
---
elevated collapsible cups and bowls - love
---
---
We backed Stojo back during their launch on Kickstarter back in 2015-ish. Loved their concept back then and it's only gotten better and better over time. Solid construction and the best way to have a great coffee cup with you that doesn't impact the planet. Haven't tried their bowls yet but will do soon!
---
What is Thingtesting?
Thingtesting is an unbiased place to research and review internet-born brands — because honest reviews help us all shop better. Learn more.
---
Great product! Sometimes clasps are cumbersome but otherwise they are very convenient and highly portable.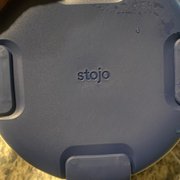 ---
The Stojo coffee cup is pretty convenient. It's great for traveling and for using to bring with you as your own cup to get filled at a coffee shop etc. I love how it folds up so easy. It definitely doesn't insulate your drink but you can always pop it in the microwave to reheat!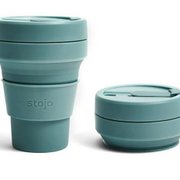 ---
I liked my cup and bowl although the snaps on the bowl are difficult sometimes, especially if you have pain in your hands. However today I got an email that they were having a sitewide half off sale. I'd just been browsing the site a couple days ago coincidentally. All of the products were the exact same price but showing that they'd falsely been marked down from double their actual prices. Example: The cup was $15. Now on the half off sale, it is still $15 but showing that it used to be $30. What a scam. I won't be buying from them again since they're ripping people off like this.
---
I bought the storage containers. They sound great, but they don't work. They collapse when you try to put the lid on, and even if you can get one to stay upright the lid won't clamp on. Terrible design. If I could, I'd send them back.
---
DO NOT BUY. Not only is the product horribly designed, ridiculously overpriced, and they will STEAL YOUR MONEY when you try to return it! The idea of something collapsible is great when it comes to storing in a drawer. But when you're trying to put the lid on and it collapses, the result is either 1) it crushes what's inside or 2) the liquid inside squirts all over you. So, obviously being unhappy with the glaring defects, you send it back. Guess what Stojo does. They ghost you. Don't return your emails. And don't refund the purchase price. Awful company. Awful product. Zero stars.
---
I got the collapsible cup as a gift for working in an orientation group in college, and I will say it's really handy. Very lightweight and easy to store. Not my ideal go cup, but it works in a pinch.
---
I have the large and medium bowls. They are great in a studio apartment and even better for bringing lunch into work!
---