Nori
Nori makes a compact, lightweight iron designed to press, steam and refresh clothes at dry-cleaner quality, without using an ironing board.
nori.co
Average rating from 56 users
92%Recommend to a friend
Nori Reviews
All

56
Nori Shaver

32
The Nori Press

5
Prior to this, I had ~the~ amazon fabric shaver, and from the moment I opened the Nori one, you could immediately see/feel the quality difference. I've tried it on a few sweaters and it works great and fits in my handle comfortably! I love the carrying case and the fact that it comes with extra blades.
---
I've never owned a fabric shaver, so I can't really say how this one compares to others but I love it! Effective, quick and gentle on fabric, I wish I bought one sooner! UPDATE: Not so safe... I just carved a hole on the collar of my sweater :-( still recommend it but with caution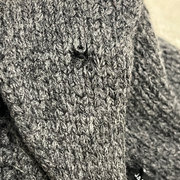 ---
---
I do not have prior experience with fabric shavers, so I have nothing to compare my experience with, but overall the fabric shaver performed well. It took longer than expected to get all of the pilling off of my sweaters, and it was a little less powerful than I would have liked, but it got the job done. I appreciate the design of it, but I know I wouldn't have purchased it without the Thingdrop discount.
---
What is Thingtesting?
Thingtesting is an unbiased place to research and review internet-born brands — because honest reviews help us all shop better. Learn more.
---
So far so good. Works really well with most of my sweaters. A bit loud for my cats taste so have to go into the other room. Love that it's rechargeable.
---
I've been hearing about the Nori iron for a long time so was very excited to try their new fabric shaver product when it popped up as a Thingdrop. I have a dinky little sweater comb that is not super effective, and I'm now a fabric shaver convert! I was relieved that it was gentle on the sweaters and sweatshirts I tested it on, but still got a lot of the pills and fuzz off! It's not perfect, I did have to go over some spots several times and noticed some pills still when I wore a sweater after. But definitely much much better. Packaging is nice, and I like that they give additional shaver covers to replace when it gets dull. I did find the button to empty out the fuzz reserve (that's a technical term, lol) hard to use and a bit cheap feeling but everything else was very chic. It doesn't look unlike some sort of futuristic sex toy though, so store it with your cleaning/laundry stuff to avoid any confusion, ha. With that, I'm off to gleefully shave the rest of my closet!
---
Nori Shaver LOVE. It is rechargeable- amazing. It is so powerful but not harmful to the fabric. Love that it has a little bag. It came with an extra bag and a cleaning brush. The cheaper ones work but this is one of those items that most of the time I am using it delicate items and the fact that it was powerful enough to shave but gentle enough not to hurt the fabric shows that it is worth it to spend a little more.
---
Fabric shavers/depillers are the device you never new you needed and can't believe you lived without! I borrowed my sister's she bought off Amazon awhile ago and was obsessively De-pilling everything I owned. The Nori is great. So happy I finally got my own fabric shaver! It is a little larger than I was expecting, but it's super light weight, can hold a lot of lint, and lasts a long time off one charge so you can get a lot done. I feel very safe using it; not worried I'm going to cut myself or my clothing even though it's made up of tiny blades. I saw other reviews where people commented on other shavers putting holes in their clothes. The Nori definitely doesn't do that; it's super gentle yet powerful all at the same time and even comes with a set of replacement blades when the originals get dull! It really works great and I would definitely recommend.
---
Really love the pill shaver – I use it primarily on my couch (recently got a kitten) and upgraded from a battery operated one, so the re-chargable wireless shaver was a huuuugeee plus. The thingdrop discount was definitely a push to take the dive, but the quality is really nice and it shaves a lot quicker and better than my previous one. I think this would make a great gift for someone who has a fabric couch or clothing that might pill. It's nice that it comes with a replacement blade and has different shave settings because it's definitely scary shaving thin fabric. My only (barely) negative is how chunky it is, probably good ergonomic design but we have a tiny basket for our laundry items in our little Brooklyn apartment, so a slimmer design would have been nice but definitely not a make or break kind of factor.
---
I did not expect to love the Nori Trim. I thought it would be just a step above the cheap, alternative ones that you find online, but it's a really well designed product ✨ I have several pairs of pricy leggings that have pilled on the inner thighs. Very unsightly, but not enough to replace them. The Nori shaved off the pilling gently and quickly, with almost no pressure needed from my hand. It didn't cut through the fabric or make any tears (like the cheap alternative one did) The size is larger than expected, but it fits ergonomically in my hand. I went over 3 leggings and 2 sweaters before I had to empty it, and my hand did not cramp up. I also used it on my throw pillows (photo attached). Pros: ✔ Very easy to use ✔ Easy to clean ✔ Works right out of the box ✔ Rechargeable ✔ Includes a storage bag (but the box is also gorgeous enough to keep and stow it in) Cons: ✖ Lint holder compartment was a bit difficult to open at first ✖ Wish the magnetic lid 'snapped' more into place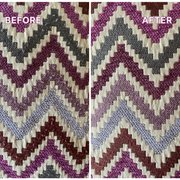 ---
This is just what I needed to restore some of my favorite sweaters!
---