JUST Egg
JUST Egg sells plant-based egg meals and mixtures.
www.ju.st
Average rating from 19 users
94%Recommend to a friend
JUST Egg Reviews
All

19
Just Egg Frozen Folded

1
just egg

1
It's a great egg alternative taste-wise. I wish the ingredients were better though. But it does the job with the taste and texture
---
There is so many unnecessary ingredients in this that it turned me completely off.
---
---
As someone who was born allergic to all forms of egg, JUST Egg opened up so many new food options for me. The flavor is really good but obviously I can' t tell you how accurate the egg flavor is.
---
What is Thingtesting?
Thingtesting is an unbiased place to research and review internet-born brands — because honest reviews help us all shop better. Learn more.
---
Just Egg is an amazing egg alternative. I love that several restaurants I frequent have started using Just Egg in many of their vegan/vegetarian dishes. The flavor is very good and it has the perfect texture to use in a wide array of recipes.
---
I've long been intrigued by plant-based egg varieties, now replacing the previous "flax egg" trend. JUST Egg does it incredibly well. I've only tried the frozen, pre-prepared egg, rather than the typical squeeze bottle for a typical scramble, and it was incredibly authentic. The texture, flavor, and color all resembled an egg quite perfectly. While it's not a typical purchase, those who prefer a plant-based alternative have a winning product.
---
I cannot even begin to describe how much I love Just Egg. Our home is plant based and used to love eggs years ago, but had never found a worthy substitute till about 4 years ago when we tried Just Egg while on vacation in San Francisco on a breakfast sandwich. It is made from mung bean but it honestly looks like eggs and tastes and has the texture of what we remember eggs being like. We use the frozen ones for breakfast sandwiches and the liquid version for omelets and scrambles.....it's seriously a staple item in the house.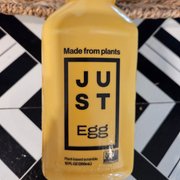 ---
Genuinely cannot believe this is vegan. Taste and texture are spot-on and it makes a perfect replacement.
---
I'm not sure how egg-like this really tastes, but to me I love that it doesn't smell like eggs, its high in protein, and it tastes great with seasonings. I had a restaurant make this in a breakfast dish- scrambled with salad verde, tortilla chips, and black beans and I need to figure out how they scrambled it because it was SO good. I use it before the expiration date and I haven't had a problem with the product molding after opening it.
---
I made vegan cookies for the first time as a gift for a friend. I used JUST Egg and the cookies came out so good! My friend loved them and I felt relieved that everything turned out well. I have used this product since and all of the vegan baking I have done came out great. I strongly recommend JUST Egg!
Feedback
Nothing could have been better. You can use this product for vegan and regular recipes.
---