Average rating from 39 users
100%Recommend to a friend
Cool designs, but lots and lots of synthetic materials, which don't feel good in the hands or on the skin.
---
so cute and so stylish! love the fun prints on the tshirts. pricier, but great quality
---
---
Ganni has the most fun trendy pieces. They are definitely a splurge, but the quality is great. They do typically run a few amazing sales throughout the year, so I will definitely stock up. The only problem I've had with them in the past is their inconsistent sizing in their pants & denim!
---
What is Thingtesting?
Thingtesting is an unbiased place to research and review internet-born brands — because honest reviews help us all shop better. Learn more.
---
I'm a Ganni girl! (Who isn't.) I own a really lovely dress from Ganni that I bought a few years ago and it's held up wonderfully, still looks and feels brand new despite multiple wears. The quality is definitely there!
---
Best company ever. I love what they stand for, I love that they're B Corp Certified, and I looooove their clothes. Incredibly chic, great quality, and pieces that people always ask about. 100% worth the price I adore everything I've bought from Ganni.
---
I have a coat from Ganni looks really good. Only thing is I would love It more If It wasn't Made from polyester.
---
Love Ganni, always have fashionable items, however for the price I would like to see some more natural fibers in some of their clothes. I particularly like their nylon bags - they are so versatile and easy to clean.
---
I am a ganni girl 4L!!!!! the buckle flats are my dream shoe truly
---
One of my favorite brands. Innovative, fun, and edgy. This is my splurge brand and it's always worth it.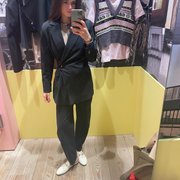 ---
Love Ganni. Everything is unique and beautiful. I have a sweater that's held up so well and a newer dress that is trending in the same direction. Ganni is a little more expensive than some other brands that I shop but to me everything is lasting and not fast fashion.
---