Average rating from 24 users
100%Recommend to a friend
The vegan leather and faux fur collars are very stylish.
---
Really beautiful, well made colors. My dog Gus has a long neck but a small head, so we often find colors to be too thin or too bulky. This really sits well. I think the wavy cut makes it look even chicer.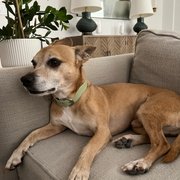 ---
---
Love the subtle scallop design on the collar I got. Just in general, Daisy by Shelby has the ~aesthetic~ I like, so I look forward to buying more products to treat my favorite furbaby!
---
What is Thingtesting?
Thingtesting is an unbiased place to research and review internet-born brands — because honest reviews help us all shop better. Learn more.
---
Super cute! My dog actually prefers this squiggly collar to a vest!
---
Cute! Got the Dixie Collar in Sage for my pup during a Thingdrop. I ordered a L based on the size guide but when I received it was WAY too big and did not fit. I wrote to customer service and they took care of it immediately and sent a M and went above and beyond. The product is great, nice unboxing, and superior customer service. Love that it's vegan too. Feels luxe.
---
This is the coolest dog collar. I bought it for our pitbull (Bear) shop dog and she looks tote-adorbs! I ordered it in the Sage color and I love it! She wore a fabric one before that, and I didn't like the smell it carried, so I'm a happy camper and she probably feels better about it too.
---
I love this collar! I tend to stay away from cloth collars because they can get stinky, but that leaves me with limited options on the design and look of the collar. I like how even though the collars are just one color, the scalloped edge really gives it some flair. And I loved the colors offered--I had a hard time deciding which one to choose! I do echo other reviews in that the collar material itself is a little thinner than I would prefer, which is especially noticeable since my dog is 75 pounds and pulls a lot. I'm not sure how well the collar would hold up in the long run because of this.
---
I got the Dixie Sage from a drop, and it's pretty nice quality vegan leather. Love the design and the color is very unique, but it probably looks best on short-haired dogs. I did not think through the fact that the shape of the design gets lost on my dog (who is white and fluffy). Still, a super cute design, and I have my eye on the Molly and the Hershey. More bright, funky patterns please!
---
The vegan leather feels luxe and flexible. By dog hasn't had any complaints. I can see the cute wavy shape being lost once his hair grows longer, but still think it's worth it for the quality. The Dixie collar sizing is larger than regular collars and I made the mistake of ordering it a size too big. However, their customer service was great and they sent me a new one quick!
---
This collar is super cute! We love getting the compliments for our old pup and he usually gets extra loving out of the interaction! The customer service was amazing when we got a large sized collar that was a bit to loose, they sent a smaller one no questions asked. It was so nice to be accommodated and now we get to walk around with our old boy looking dapper as heck!
---