Average rating from 67 users
76%Recommend to a friend
Bite Reviews
All

67
Floss

1
Toothpaste Bits

1
Whitening Kit

1
Love the sustainability angle and the packaging. Good for travel as well. Bit hard to get used to the format after using normal toothpaste (less foamy, and feels uncomfortable to dissolve).
---
Couldn't quite get into Bite. I wanted to love the toothpaste bits but the crunching experience is just not for me. My bamboo toothbrush kept getting mildewy as well :( Love the company's mission and really wish I liked it more!
---
---
I have been using the toothpaste bits for at least two years and I love them. I hate having to go back and use regular toothpaste if I forget to pack them when traveling. They are easy to use and do not leave a residue or bad chemical mint taste in your mouth post brushing. I got my mom hooked on them too! Best birthday present ever from the best daughter!! I have also had excellent dental checkups while using and my dentist is impressed with my oral hygiene while using this product. Four stars since the floss is actually terrible :( Broke in my teeth and not great. The whitening kit was fine, but I felt sensitivity in my gums while using it, so I did not continue. Plus, the whitening bottle leaks very easily, so store it upright! Although once done with the floss and whitening container, they were great to wash and store my bits for travel! The little metal one was in the crossfire of the spilled whitening solution and it rusted out immediately so I think a glass travel vial is the way to go~
Floss
Toothpaste Bits
Whitening Kit
---
What is Thingtesting?
Thingtesting is an unbiased place to research and review internet-born brands — because honest reviews help us all shop better. Learn more.
---
These work great! They keep my teeth white and fresh. I've been using them for 2 years and haven't had a cavity or anything. My subscription was set for every 4 months and they last me the full duration. I've gotten used to (and really enjoy!) the "crunch". At around $34 every 4 months, or $8/month, these are totally worth the money.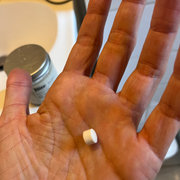 ---
I love the toothpaste bites! They leave my teeth feeling incredibly clean and fresh. I do wish I had gotten the one with a whitening agent, but it's still the best teeth cleaner I have ever used. The toothbrush itself is gentle on the teeth and feels pleasant to hold. Plus, there's the added benefit of feeling good about using wood instead of plastic!
---
I've only ever tried the toothpaste tablets & generally really like them (for toothpaste tablets...). Great solution for reducing waste while traveling vs. buying mini toothpaste tubes!
---
My fiancé and I are obsessed with the tooth tabs! Honestly I have a pickiest partner when it comes to new products but this he won't let me replace, and I don't want to!!
---
It was great! The texture is kinda like a thicker Smartie - its like a tad chalky and breaks apart the same way but then once you start brushing it froths right up like regular toothpaste. Left my mouth tasting minty too.
---
I tried the Bite Fresh Mint Toothpaste Bits. They're fine. Not anything amazing but not terrible either. Easy eco-friendly swap, but a hard hit to the wallet.
---
The mint flavor of Bite's toothpaste bits is relatively mild, I'd prefer a stronger flavor, but it feels effective. My experience with Bite was generally good. I ordered their toothpaste bits once, then stopped to support a company I was working for that made a competitive product. THEN I switched to Boka because of their use of n-Ha (a non-toxic, biocompatible answer to fluoride) because I wasn't convinced my teeth were getting clean with natural toothpastes but I'm skeptical of fluoride. BUT I was sad about using plastic. I went back to the Bite site to find that they use n-Ha in their tooth tabs, which I'm pretty sure is a new thing because it's highlighted now. Ultimately, after time away experimenting with other things, I'm going back to Bite! Back when I first tried them, they didn't have the mouthwash bits yet either so I'm looking forward to trying those and I'm hoping I'll get a stronger mint flavor from those.
Feedback
As far as improvement, it really is just the flavor. I want something stronger.
---