Opopop
Opopop makes gourmet popcorn in a wide variety of flavors.
opopop.com
Average rating from 20 users
79%Recommend to a friend
Tastes good. Some flavors have a weird aftertaste.
---
I like the idea of this more than the actual product. None of the flavors were exactly what I wanted to I ended up just adding my own.
---
---
This popcorn is a problem. On one hand, it's delicious, especially the sweet flavors. On the other hand, this popcorn is how I learned my stomach can't handle sucralose (Splenda). The best flavors, Vanilla Cake Pop, Salted Caramel, and Chocolate Mint, contain enough sucralose to make me feel sick for a day. The savory flavors are also good but there aren't enough options to justify buying refills very often.
---
What is Thingtesting?
Thingtesting is an unbiased place to research and review internet-born brands — because honest reviews help us all shop better. Learn more.
---
Very fun! My kids love it.
---
Convenience meets taste! I thought from the website these would be over the top with flavor, but I was pleasantly surprised. Super easy, portioned pouches, you just pour into any silicone microwave popcorn maker and found all the flavors to be just the right amount of flavoring where it was tasty but not overwhelming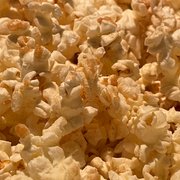 ---
Enjoyed the fancy butter and looking forward to trying other flavors. I didn't buy the popper/lid so had to improvise with a different bowl cover for the popcorn but overall really enjoyed it. I'm going to be testing the salted umami next.
---
I had the opportunity to try their vanilla flavor - and I thought it was subtle, too subtle that it wasn't enough flavor - but turns out I should have definitely shook the packet (all the flavor collected to the bottom) before putting it into a container to pop! The other mistake I made was I thought I could microwave the popcorn within the packet itself. (Read the instructions, friends) As a consumer I definitely have been trained to pop popcorn in the packaging itself, that it felt like second nature to do the same to this packet! Because of that, I almost feel like it's a wasted opportunity and excess packaging.
Feedback
Be able to purchase individual packets + have the packets be microwaveable!
---
If microwave popcorn is your thing and you want a high quality, more interesting microwave popcorn than Orville Redenbacher's, this is probably a 5 star product. As the 3 half eaten bags of popcorn that have been in my refrigerator for the last year can attest to, microwave popcorn is not so much my thing. First, no need to buy their bowl. You can get the same bowl for much cheaper on Amazon. Second, this popcorn is expensive. Yes, the flavors are interesting and it's high quality popcorn, but I don't feel like it's that much better to justify the price. I've tried Maui Heat, Cinnalicious, and Vanilla Cake Pop. I could flip a coin on whether I like Cinnalicious or Vanilla Cake Pop most. The thing I like most about this product is they way it smells when it's being microwaved. It sure beats the regular microwave popcorn smell. I also like that I can manage my own portion, since I choose the amount to put into the bowl (unlike a normal bagged microwave popcorn).
---
I hate this popcorn! Now I can't buy anything else! I am typically drawn to the traditional flavors of butter and lightly salted and they knock store-bought microwave popcorn out of the park! I cant wait until they expand to brick-and-mortar stores. Update: do not buy the microwaveable bags off Amazon! It is poor quality compared to the pop cups and bags of flavor-wrapped kernels. The microwavable bags burned easily, they weren't inflating properly, and the flavor was really lacking! I wasted 4 bags out of the 9 I bought. Since Amazon doesn't do refunds for food items, I reached out to customer service and they were happy to send me a full bag of flavor-wrapped kernels--which was nice--However, they should really consider upping their shipping game. They shipped the replacement in a silver parcel with an ice pack inside a cardboard box. It's over a hundred degrees in Texas so those perfect flavor-wrapped kernels were a melted mess. I tried to refrigerate, but it created a huge block of kernels and butter superglued to each other. I had to use a hammer to break it apart again. Which also impacted the quality. Some batches were flavored some not. If Daily Harvest can ship smoothies to me without them melting in the middle of summer, so can Opopop! I'll probably try to order in the (non-existent Texas) winter from now on.
---
Easy to make with a great variety of flavors.
Feedback
This popcorn is definitely on the pricey side, but they offer unique flavors. I've tried 6 of the flavors and there's only one I didn't care for (Fancy Butter). The Gingerbread and Maui Heat flavors are my favorites.
---