Average rating from 7 users
100%Recommend to a friend
I love my handheld massager. As a chronic pain patient, it's a key tool in my toolbox.
---
I love my hypervolt. It's a great product. It holds on to the battery very well, and the fact that you can change out the battery is great. I've run this thing into the ground using it with college athletics and it's still going strong after 4 years.
---
---
My gym has these, and I'm so grateful! Using Hyperice after lifting weights almost guarantees that I won't be sore the next day. I'm not super consistent with my weightlifting, so Hyperice are incredibly valuable.
---
What is Thingtesting?
Thingtesting is an unbiased place to research and review internet-born brands — because honest reviews help us all shop better. Learn more.
---
The Hyperice percussion massager is a revolutionary device that has taken the world by storm. It is a handheld device that uses rapid percussion to relieve muscle soreness, improve circulation, and promote recovery. The Hyperice is known for its powerful performance, quiet operation, and sleek design. The Hyperice is extremely effective at relieving muscle soreness and pain. The percussions penetrate deep into the muscles, breaking up knots and tension. It's incredibly quiet, making it ideal for use at home or in the office. The Hyperice is very easy to use. It has a simple design and intuitiuve controls. The Hyperice is lightweight and portable, making it easy to take with you wherever you go. The Hyperice has a long battery life, so you don't have to worry about it running out of juice. The Hyperice is a bit expensive, but it is worth the price for its quality and performance. Can be too powerful for some users: The Hyperice is a very powerful massager, so it can be too powerful for some users. If you are sensitive to pressure, you may want to start on a lower setting. Overall, the Hyperice is an excellent percussion massager that is worth the investment. It is effective, quiet, easy to use, and lightweight. If you are looking for a high-quality massager that will help you relieve muscle soreness and improve your recovery, the Hyperice is a great option.
---
This may be pricey but it is definitely WORTH it. For those who like deep massages, you will get addicted. haha My boyfriend got me the original Hypervolt (back when they only sold 3 products), and I used it almost daily after my workouts. It's extremely well designed and still holds its charge after 3-4 years now. This product been a god send for the stubborn knots in my shoulders/back, legs, anything that's sore from exercise. Once, my mom came to visit and she was so addicted to using it on her legs that I ended up gifting her a Hypervolt Go 2 to take home. The Go 2 was smaller and more light in weight which was perfect for her!
Feedback
The Original is a bit heavy (not sure if this is updated since), and I do wish the handle could be designed a little different so that you could get more leverage.
---
I bought a Hyperice for my wife last year and we both now use it a few times a week.
Feedback
Things I love: - Long battery life - Massage feels great and is convenient - Pressure settings are well-calibrated Things that could be improved: - The handle. It's not ergonomically designed, and can't be held for longer than a few minutes without you feeling the heft - Would be nice to have a few more pressure settings to choose from - Additional heads are hard to swap out, relative to other models I've seen - Doesn't come with a storage bag like Therabody's version does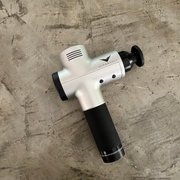 ---
My go-to before and after workouts for warmup and recovery . Really helps with sore muscles as well
---