Average rating from 81 users
97%Recommend to a friend
Hoka Reviews
All

81
Challenger atr 6

2
Hoka Bondi 8

2
Women's Clifton 9

1
Men's Clifton 9

1
The most comfortable shoes in the world - like walking on clouds! Not the most beautiful - silhouette is similar to a Skechers Shape Up. But the comfort is unparalleled.
---
Love their hiking shoes. No need to adjust, they're just comfy and ready to go!
---
---
After a diagnosis of plantar fascitis I went to a specialty shoe store and they heavily recommended Hokas. I can't believe the amount of change it has made in my foot comfort. They do have rather large soles which aren't always my favorite aesthetic, but comfort sometimes comes over looks. And in this case, these shoes still look cool enough and provide all the support my arch could ever ask for.
---
What is Thingtesting?
Thingtesting is an unbiased place to research and review internet-born brands — because honest reviews help us all shop better. Learn more.
---
I'm a big fan of my new hoka shoes. I've got plantar fasciitis and have to be on my feet for 15+ hours a day sometimes. These SAVED ME! I also added insoles to them like i do with all my shoes.
---
Clifton 9. Such a well-crafted shoe. Support, support, support. I've tried a half dozen other brands. None give the comfort and prevent foot pain like Hoka. I'm also using the Biondi, which has more cushioning. Extremely comfortable. I do a lot of walking and tai chi. Excellent.
---
My hokas are soooooo thrashed but only because I wear them all the time. So so comfortable, and I will continue to repurchase.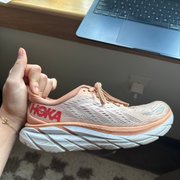 ---
Arahi - my favorite running shoes. My feet pronate and I have very high arches, so the Arahi are a perfect shoe for me. They give me space and support and great bounce. I love them. Colors could be better... I am currently rocking all blacks. But if we are being honest, and we are because it's a review on thingtesting, they are a little ugly:) Cliftons - great every day shoes for walking around and looking cool/like an 80year old. I have them in clay and all white. Love them. I've exclusively worn Hokas for running since 2018. Prior to that I tried Nikes (frees plus a few other styles). I had shin pain, hip pain, and foot pain, I really couldn't run more than 2 miles without feeling injured. Once I started wearing Hokas, I picked up in speed and mileage. I now average about 5 miles per run and don't feel sore. I love them. I'll add that my husband wears the speed goats every day. he loves them. I havent tried them yet, but they are on my short list.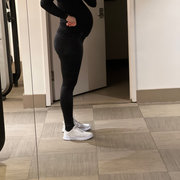 ---
Bondi 8s - best sneakers I have ever owned. So springy and comfortable. Love the colour range they have too. Would buy a 1000 of these in different colours.
---
Easy to clean, good feel, good fit. So much more comfortable than my my other pairs of shoes ( vans fan ). I really enjoy the designs and colors that Hoka offers. I am not a runner by anymeans but my feet never feel cramped after long walks when I wear my hokas!
---
These shoes honestly changed my life. I have the Speedgoats and I use them for hiking - my feet used to throb during long hikes but with the Hokas I can really push the miles. They are more comfortable than any trail runner I have worn before (I used to use Altras) and I was able to put more than 800 miles on a pair! Well worth the money!
---