Average rating from 19 users
Very much a gift. They have the most fun designs and do cheer you up when you wear them! Relatively comfortable, but not more than any other sock.
---
I like the difference creative socks but some of them are just too thin. Great for gift though!
---
---
I think something changed with this brand over time because I remember the quality being good the first time I got a pair but it has since degraded into something I would never buy again. I feel like I can get a month or so out of these socks before they wear out, something I haven't experienced with any other brand. They are colorful and they've done some excellent branding which means I end up receiving these as gifts, but they're not something I would spend my own money on.
---
What is Thingtesting?
Thingtesting is an unbiased place to research and review internet-born brands — because honest reviews help us all shop better. Learn more.
---
Great Gift!! But Pricey for a pair of socks
---
cute designs & can usually be found on sale (I got mine through FabFitFun sales). however, it's important to note that they aren't cushioned socks, so if you prefer extra padding, you might want to consider other options.
---
Cute designs and patterns.
Feedback
Way to expensive for the quality that they are. I also found them tight without much stretch to get over my feet. I remember being charged duties on the socks and almost paying double the price of the socks.
---
Gotta wear socks, may as well make them fun. I actually don't own the bulk of Happy Socks I've purchased- that honour goes to my partner who's sock drawer was a rather sad looking melange of black and white trainer socks and navy dress socks before but, no longer! Colours and patterns galore these days. I've also purchased them for my father, sister, brother in law and the many tiny babies in my life. They're a boring albeit practical gift.
Feedback
One of my favourite collabs they did was with NZ designer Karen Walker, sadly someone borrowed my pair and I never saw them again… sadface. I would like to see more prints in the same wheelhouse- neutral in tone and not as kitsch- for those of us who prefer their feet happy but perhaps not quite so loud.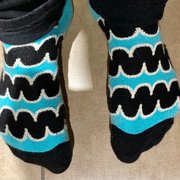 ---
Socks that put a smile on your face - what else is there to say?
Feedback
I fear Happy Socks heading towards bargain basement territory at times - you often see less popular collections in clearance racks, and I feel this is something to be avoided. Potentially more curation? And reconsider Quality / Price trade off? Fabric sometimes pills.
---
The socks were great and soft, so many prints to choose from -- love it. Also, the price, to my view, is reasonable.
Feedback
They could be a little better quality, as they started pilling relatively quickly.
---
Fun designs and patterns and colours
---