Average rating from 11 users
80%Recommend to a friend
Cure Hydration Reviews
All

11
Lemon

1
Grapefruit

1
Ginger turmeric

1
Strawberry kiwi

1
I have tried many of Cure's flavors. They work and taste great! The strawberry kiwi and grapefruit are outstanding. The ginger turmeric is on another level. One of the best hydration packets I have ever tried. I use it almost every morning.
Grapefruit
Ginger turmeric
Strawberry kiwi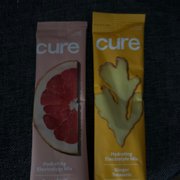 ---
I have been a subscriber of Cure for a few months now and I have to say, compared to all the electrolyte drinks I've tried, Cure is probably the best. I got the sampler pack and all the flavors were really good. I do like that they're not super sweet and they don't taste fake. In terms of their subscription, it's a great deal and I love that I can swap the products each month, so if I'm tired of a flavor or want to try a new one, it's super easy to do so. I definitely recommend and right now, the lemon and the kiwi strawberry are my absolute favorites. The one downside is that shipping does take a long time- you'll get a notification that your item shipped, but then it's kind of sitting in that UPS limbo of "label created, waiting for package" for a couple of days. I'd say on average, it takes over a week.
---
---
The lemon flavor is my favorite electrolyte powder - not too sweet, but still pleasant.
---
What is Thingtesting?
Thingtesting is an unbiased place to research and review internet-born brands — because honest reviews help us all shop better. Learn more.
---
I really needed something to help me hydrate while fighting a cold. I purchased the lemon flavor, and am happy with the way they taste compared to other brands.The taste is a little salty, not sweet, and not really sour, which is why I dropped a point off, I will also say the price point is rather steep, but cheaper than other brand.
---
Invested in Cure Hydration
I've reordered Cure a couple times and really like the taste, especially the berry flavor. I love that it's so natural and easy to bring with me on the go.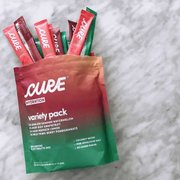 ---
I got the Cure sampler pack, to try all the varieties of flavors. Some I enjoyed more than others, but I found that I liked the majority of them. I haven't tried other hydration packets yet (there seem to be so many on the market right now), but I definitely enjoyed this experience. Some days, I am drinking water all day- but other days, I can feel my body getting very dehydrated. Often, I'll get a headache when I'm dehydrated- and when I drink one of these packets, that headache tends to go away or lessen. I love that!
Feedback
What could use improvement? It does taste overly sweet - even after adding more water. I liked the flavor, but no, I didn't feel like I was enjoying a fun beverage necessarily. I am definitely drinking it mainly for the hydration benefits!
---
Cool look to the product and effective at hydrating! But still has some of that funky artificial taste of similar powders.
Feedback
Would love this product more if it didn't have that slightly artificial taste at the back of the mouth; it's more noticeable when the water becomes more lukewarm.
---
Friends with Cure Hydration
Cure hydration packs have been a game-changer in keeping me hydrated. I drink one every morning after my workout, and no longer feel like I'm trying to play catch up in terms of drinking water for the rest of the day. My favorite flavor is the grapefruit, but the berry pomegranate and watermelon are delicious too.
---
I purchased the lime and watermelon hydration mixes to try something new as summer is starting and I find it harder to keep up with drinking water all day. I enjoyed the flavors and the on-the-go sticks to take with me. I haven't found the magic water to mix ratio, it's either too salty or too watery. Either way, I know I'm getting additional hydration which is why I purchased them.
Feedback
They do offer a sample pack of all the flavors which is great. Some of their products are FSA/HSA eligible.
---
I've tried a lot of hydration supplements and Cure is by far my favorite, and I've repurchased multiple times. The best flavors are the citrus varieties (grapefruit, lemon, lime, orange). They are not overly sweet, and have a pleasant saltiness. The best concentration is around 12 oz but I often mix with 16-18. I don't love the individual servings, but they've recently released jars of select flavors.
Feedback
More large format options, I usually drink one serving every day and the individual size feels wasteful from a packaging perspective.
---