Average rating from 48 users
65%Recommend to a friend
Act+Acre Reviews
All

48
Shampoo

2
Conditioner

1
Hair mask

1
Dry Shampoo

1
scalp exfoliator

1
I use their scalp exfoliator off and on, especially now that we're getting into the winter months. It does make parts of my hair dryer, but it also does its job of cleansing my scalp.
---
This brand finally got rid of my scalp eczema, and that alone is worst about 5000 stars. Further, this brand keeps my long, dense curls manageable (albeit NOT with their Curl + Wave line). I have found a superior detangler (hello LolaVie!), but almost everything else is highly effective. I have zero skin or scalp reaction to this brand, even with the added scent. The scent -- clean + petrichor + resin. It is absolutely beautiful. It did NOT trigger my migraines, asthma, or skin allergies, which is a huge deal for me. I usually have to go completely fragrance free. Both of the pre-treatments (the Scalp Detox and Scalp Exfoliator) -- are legitimate. I use Scalp Renew every 3rd or 4th washday, and Scalp Exfoliator every other time (when I'm not using the other). The Scalp Detox breaks down all the nasty buildup at your roots and generally helps to thin out the oily buildup that shampoo is usually responsible for tackling alone. It works VERY WELL. The Scalp Detox basically helps calm my scalp and neutralize any eczema or pH issues, which is why I only need it occasionally. I consider both essential. The original shampoo -- this is a gentle but very effective shampoo. With a double-wash (which I do for every shampoo, not just this one), I achieve consistent squeaky clean (literally) hair. I believe it is a good clarifier, especially in conjunction with the pre-treatments. I don't have hard water, so can't speak to it's efficacy in that scenario. The hair mask -- I use this as my main conditioner, and it does a good job without weighing down my curls. It also rinses out easily. My only complaint is that it takes longer than I'd like to detangle after using it, although that may be because of using an inadequate detangler (I just found LolaVie's detangler and expect this to no longer be an issue). Stem Cell Scalp Serum -- it's expensive AF and I feel guilty every time I buy it, BUT I've been using this ONLY on my scalp post wash and the allergic reactions, eczema, and itchiness ARE GONE. It's really quite soothing and (luckily) it doesn't take much to cover your whole scalp. It has a very mild, apple-like scent. I've been looking for a less expensive replacement brand, though. Cold-Processed Leave-In -- I'm not sure this does anything at all. I'm going to give away what I already purchased of this product now that I've found a non-irritating replacement. Argan Repair Oil -- this particular hair oil is nicely balanced and is especially effective on the length of my hair. I'll use it primarily when I'm nearing washday and my lengths begin to dry out a big. It effectively moisturizes my hair without making it greasy, and a little goes a long way. Fulvic Acid Dry Shampoo -- a big miss for me. It wasn't effective at all at the dispenser was a complete waste of time. It had to open it up and apply it to my scalp line with a makeup brush ... then it proceeded to not work AT ALL. The 3/4 of the Curl + Wave line -- a HUGE miss for me, even though I'm a curly girl. The Curl Shampoo was ineffective (especially when placed beside the hugely effective Original) and I had to wash my hair too often to rectify the problem. The Curl Conditioner did nothing for my hair at all. The Curl Spray is like ... tacky water? Not moisturizing at all and left a nasty residue on my hair that made it LESS managable. The only redeeming product from this line is the: Curl Lotion -- this is a good, lightweight defining cream. I detest defining creams as a rule, because I don't like the texture or manageability of my hair after using them. This is one of the better one's I've tried and it doesn't a moderate job of holding my style.
---
---
The ultimate dry shampoo. This was my first powder-based product and I don't think I'll ever go back. I'm impressed by how quickly it absorbs oil and the scent is very faint. Also, love the minimal yet chic packaging.
---
What is Thingtesting?
Thingtesting is an unbiased place to research and review internet-born brands — because honest reviews help us all shop better. Learn more.
---
I had purchased a bundle with their detox shampoo, condition, and it came with a comb. I was having a lot of oily scalp issues at the time and thought this would help. I think it exacerbated the issue and have since gotten rid of the product by giving it to friends.
---
I really wanted to love this. I tried their cold processed curl cleanse and it made my hair crazy frizzy. After some practice I figured out how to get the product to lather enough to get it through my hair (rub it between your hands for a very long time) but ultimately I loved the idea of it more than the experience. Pros: smelled really good, scalp seemed happy Cons: so much frizz, very little lather, expensive
---
This did not work for my hair. My hair has been very frizzy while using these products. I did not enjoy having to leave a shampoo in for a minute, as well as then leaving the conditioner in for 5 min. That's a lot of waiting time in the shower.
Shampoo
Conditioner
Hair mask
---
Their cold pressed oil is one of my favorite scalp products. I really liked their shampoo but the conditioner seemed a little too heavy for my hair. I definitely want to try more of their products though.
---
Hands down the best dry shampoo. I love that it is in a spray bottle without the aerosol, it absorbs really quickly, and it leaves my hair feeling nicer than it does on shampoo day!
---
I have mid bum length hair and while I have lots of hair my actual follicles are baby fine and get weighed down easily. No matter how much or how little of the hair cleanse shampoo I used my hair never felt completely clean. The conditioner made my hair easy to brush but unfortunately it also made my hair feel sticky. While the shampoo and conditioner are not ideal for my hair type I do really enjoy the dry shampoo and the cold pressed stem cell serum.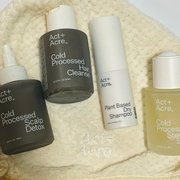 ---
I use the scalp detox oil which smells amazing, but I can't say that it's really effective as there are still leftover flaky patches when I use them on my husband. Great sensorial experience though.
---