Tracksmith
Tracksmith, an American sports apparel brand, manufactures performance running gear, apparel, and accessories.
www.tracksmith.com
Average rating from 16 users
87%Recommend to a friend
Excellent running apparel. Most of the clothing has an everyday look to it so you can finish your run and head to the brewery or cafe without changing. It's made of high quality materials and is extremely comfortable. Customer service is great.
---
My boyfriend ordered multiple items from tracksmith and his favorite was the mesh tank, which he wore continuously after purchasing. It's a sophisticated, deep navy mesh material and it's sturdy but very breathable and lightweight. He kept some shorts, as well, that are flattering on his 6' 3", 175 lb frame.
---
---
It is so expensive for what it is. I find a lot of the styles cool but then the sizing is extremely tiny. I'm not a big person but was a large in Tracksmith gear. What! I usually wear a 4. Its good quality and the shorts I have bought held up pretty well, so in fairness maybe I would have gone through two shorts in that time. Still it just feels like a lot of money to spend at one time. Some of the gear I've tried I've returned right away. The sports bras aren't good unless you don't have any boobs at all.
---
What is Thingtesting?
Thingtesting is an unbiased place to research and review internet-born brands — because honest reviews help us all shop better. Learn more.
---
Tracksmith trail shorts: Extremely durable and excellent for trail runs of all distances. The built in liner with pockets are great for phone and keys, and easily accessible during the run. No chafing either! Back pockets holds fuel and sunglasses well. I probably have hundreds of miles on mine and they're only showing minimal wear and tear. Newer version runs quite small, so size up.
---
Easily my favorite running apparel brand. Basically the only shorts I run in and have for a couple of years. I will say the other feedback to the cuts and fit are definitely right, especially with tops the cuts seem to be very specific to a body type so it's hit or miss with tops but again the shorts are a staple for me.
Feedback
The cut seems to be specifically for a taller/lanky build and would love to see more of a box cut options in certain SKUs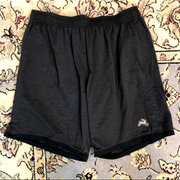 ---
I've had mixed experiences with Tracksmith, but what I do have I _love_. The run shorts I have are the best I've ever had and I'll continue to buy them from Tracksmith. I had a merino sweatshirt from them that shrank an unbelievable amount even though I washed it like I wash all my merino. And I tried a pair of leggings and skin tight shorts... the cut was just so off. Tight in the thighs, loose in the waist. So basically, they're hit or miss, but when they succeed, they hit the ball out of the park.
---
Big let down/not for me. I have purchased a few things and have sent back. Not impressed with the quality and design. I purchased a hoodie fleece and it had a bad zipper and stitching throughout and was not soft or comfortable. Shorts fit strangely as well. Have a few merino long sleeves that I kept but there are folks out there doing better work with merino.
---
I'm obsessed with the waffle knit wool shirt I purchased - I've worn it for most of my runs this winter! It really does keep me warmer, even when sweaty, and true to their promise, it can be worn many times before needing a wash.
Feedback
I wish they were more size-inclusive! I hacked it and went with a men's size since women's sizing ends around a size 8-10, but the running community is more diverse than ever before.
---
Love their clothing - really high quality and very stylish.
---
Coming from Boston, this felt like a "hometown" brand. Runners are the focus with amazing quality, unique "strong" colors with highlights and focus on performance. I own the shorts and one shirt that all perform excellent. Feels boutique when running!
Feedback
Sizing is still a bit of a challenge but works. The OG Longfellow shorts have no drawstring so are a bit baggy as I lost weight
---