Average rating from 38 users
As a non-drinker, Seedlip is one of my NA beverages out there. My favorite is garden but all of the flavors are subtle and delicious. I love that they don't have any sugar in them and they taste great mixed with soda water. I constantly have Seedlip on hand!
---
It tastes good, and I love the different flavors and the fact that it's unsweetened (unlike many other spirit alternatives). I usually have it with sparkling water and a fruit or cucumber. While it has lots of botanicals like gin, it obviously doesn't taste exactly the same, so keep an open mind when trying.
---
---
Seedlip is my favorite non-alcoholic spirits brand. I find that their flavors are the most versatile, while other brands pretty much dominate whatever mocktail you might make. Pretty expensive, though.
---
What is Thingtesting?
Thingtesting is an unbiased place to research and review internet-born brands — because honest reviews help us all shop better. Learn more.
---
I love seedlip products! Tastes great and can mix as you would any gin cocktail, plus the packaging is super fun.
---
Obsessed. A great alternative for those of us that live low/no alcohol lives. Recommend getting their recipe book as well. Personal favorite is the Garden.
---
Almost completley tastless. St. James has much more taste, and is much cheaper. Love the etiket, but the drink is not worth your money.
---
To me, the smell of the spirits was stronger than the taste itself. The smells lends itself well to most drinks, but does not add any flavor to the drinks themselves - mocktails or cocktails.
---
Delicious. Great alternative to spirits. My only issue is it costs the same as spirits. So... my decision making around drinking less (saving money, healthier, etc) loses the saving money factor. Great treat for friends who are pregnant/sober, etc.
---
Seedlip is an interesting one. On its own it tastes pretty soapy but mixed with some tonic or ginger ale, something bubbly, it really shines. I'd compare it to gin, it's very botanical. If you like gin or very botanical flavors you'll love Seedlip.
Feedback
I'd love more flavors
---
Received a free product from Seedlip
Friend and guest of the show Marissa Le aka Yolo Ono, gifted me this and I had it for New Years Eve 2023. I thought it would hit but it was mid. The flavors are intense. I appreciated though.
Feedback
Felt like I drank vegetables than non-alcoholic. Very strong scent.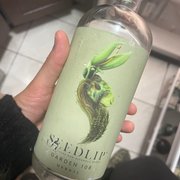 ---