Pipcorn
Pipcorn makes delicious heirloom snacks that they claim taste better than any popcorn.
www.pipsnacks.com
Average rating from 25 users
95%Recommend to a friend
My favorite heirloom popcorn brand.
---
The truffle pipcorn is great. smaller pieces of popped corn compared to other brands. I like not overwhelming on the truffle, which is appreciated considering most tend to go overboard when adding to any dish. No unpopped kernels at bottom of bag. The only issue is hard to find in stores.
---
---
I tried the cheese balls, my only wish was that they were more cheesy :(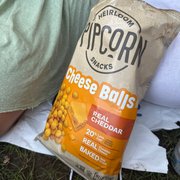 ---
What is Thingtesting?
Thingtesting is an unbiased place to research and review internet-born brands — because honest reviews help us all shop better. Learn more.
---
These hit. Their cheeseballs are insanely good.
---
How could I say no to little cute kernels. I first saw pipcorn on the Vegan Zombie youtube channel. I had to try them and even the classic seasalt flavor is really good. Once you start its hard to stop. Each bag comes super filled so its great to share.
---
I tried the Pipcorn cheeseballs and the flavor of them is really good. Definitely cheesy but not like an artificial cheese flavor. My one complaint is that they are super tiny balls... kinda was expecting / think i would like them to be a bit bigger.
---
A really fun and light snack, I love the Pipcorn varieties I've tried- especially the truffle and regular sea salt flavors. I found some similar tiny popcorn snacks in bulk at the spice shop Kalustyans in NYC (they had like popped sorghum and other grains) but Pipcorn is an easy way to source light and fun snacks like that outside of the city.
---
This stuff is delicious!! My favorite has got to be the little cheese balls. So addictive!
---
Loved these small pop in your mouth cheese balls! Very light and airy, but also super crunchy! Very similar to a pirates booty! Great flavor and didn't make my hands messy!
---
Tried the cheeseballs and loved them. They did have a bit of an odd aftertaste however. Would definitely have these again!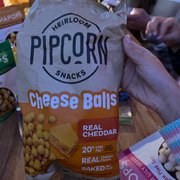 ---