Average rating from 77 users
For me, this gets a 5/5! As a type 1 diabetic, this superfood soda does the trick to curve my afternoon high with gives me the confidence I need throughout the day to have something yummy without the worry of hidden sugars. The flavor is great and I love the branding.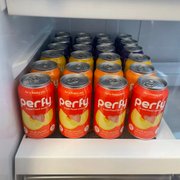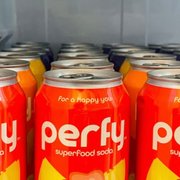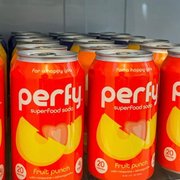 ---
I am OBSESSED with Perfy!! Dr Perfy and Fruit Punch are my favs, but I genuinely haven't tried a flavor that isn't good and I'm pretty sure I've tried all of them! Dr Perfy tastes literally like Dr Pepper. Its DELICIOUS! So so good!
Feedback
If you love Dr Pepper then you'll LOVE the Dr Perfy flavor!! SO good!!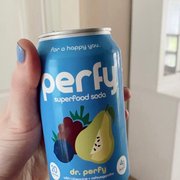 ---
---
I wanted to like these, but the flavors tasted really artificial and sweet.
---
What is Thingtesting?
Thingtesting is an unbiased place to research and review internet-born brands — because honest reviews help us all shop better. Learn more.
---
Received a free product from Perfy
It just tastes like canned fruit juice
Feedback
I thought it would have a bit more carbonation to be called a soda. The yellow can is also literally impossible to read with the white text on yellow.
---
Love the cans and the flavors. I was excited to add an adaptogenic bev to my day. The drink was refreshing and the flavors were light, but I didn't love the sodas. The aftertaste felt a little off to me. It almost felt like the soda left a coating in my mouth.
Feedback
I'd like a cleaner aftertaste. Seltzers don't reside in the mouth the way Perfy seemed to.
---
I was really excited about this. We drink a lot of canned beverages (fizzy waters and stevia-sweetened sodas mainly) so this is right up my alley. Sugar makes me feel like garbage so I avoid it whenever possible.
Feedback
The sodas were too sweet. I understand that artificial sweeteners can be easily overdone and this just didn't hit the mark. I also missed the fizz! I was expecting more of a "soda" experience. For the price, this won't be a repeat purchase.
---
I picked this up during a thing drop. Overall, they tasted ok! Fast and cheap shipping, from the reviews I didn't know which one to like the most. Ratings for fruit punch weren't that great, but this one actually ended up being my favorite!
Feedback
Some taste a bit like medicine / emergen-c. Overall a good alternative to soda but not my favorite sweetener taste.
---
Pleasantly surprised at how good this is! Yes, the stevia flavor is present but the fruit flavors are great.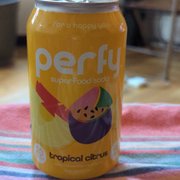 ---
I ordered the variety pack, which included fruit punch, blood orange, and tropical citrus. Unfortunately, I am allergic to oranges, so I could only try the fruit punch. It was not my favorite, but it wasn't horrible. I like that there was no sugar added, No GMOs, and caffeine-free, but I thought the taste was a bit off.
Feedback
I don't think there was anything that could be improved upon. I think my indifference is just a personal preference, as I don't like sweet drinks and this beverage was a bit too sweet for me.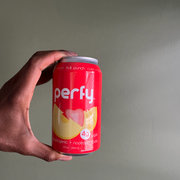 ---
I used the SuperTester discount code and was able to buy a variety case at 50% off, which I thought was a deal! At the time, the shipping was $11, now it has changed to $3.99, which is awesome. The soda shipped fast, the packing was immaculate. I had an issue with ordering at first, Customer Service took care of it right away! The flavors are really good. I think my favorite of the 3 is the Blood Orange, but I absolutely loved all of them. You definitely get a better flavor profile when you drink it very cold. Definitely recommend and I will definitely be purchasing again!
---