Average rating from 11 users
100%Recommend to a friend
Super delicious and high quality!!!
---
Less sugar and able to take places glass wasn't allowed.
---
---
Love this wine! Easy-drinking and love that it's woman-owned
---
What is Thingtesting?
Thingtesting is an unbiased place to research and review internet-born brands — because honest reviews help us all shop better. Learn more.
---
Delicious wine, and beautiful packaging too! I've had the chance to try out a few different types, and so far my favorite is the red blend!
---
Great wine, loving the branding!
---
Received a free product from Nomadica
The can is beautiful and sustainable and the rosé tastes amazing!
---
I came across this canned wine at Roberta's Pizza in Culver City, Los Angeles. An ideal, refreshing taste for a sunny day ... and with a slice of pizza, it was a perfect pairing. The packaging is eco-friendly, aesthetically pleasing, and features a music QR code with curated tracks to accompany you as you sip.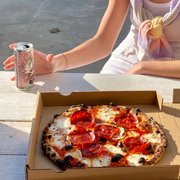 ---
When I first heard about Nomadica, I was immediately excited because I LOVE wine. But...I've ordered from other wine box subscription brands and have felt the same sentiments only to be disappointed by the pricepoint, taste, or amount. *Cue Nomadica* Female-owned, hearty pours, great price, and taste...everything I love! I also like that it ships with zero excess packaging and with a cute note. Bonus points for being vegan, chemical-free, and 0gs of sugar.
Feedback
To be honest, the only thing I would like to be different is for the website to have more stock. I went to order more of the red wine and it was all sold out. :(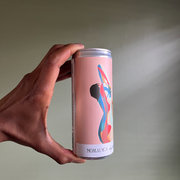 ---
the rose is DELICIOUS. probably the best canned rose i've ever had!
---
I was a bit skeptical at first because I wasn't sure I would like canned wine but I tried their red blend and sparkling white for the first time, and both were OUTSTANDING. I poured some into a wine glass, and my husband thought the wine was phenomenal and couldn't tell that it was from a can. Since then, I have brought them to picnics, and had them available at dinner parties -- they are always a big hit. Bonus: the cans have artwork from artists on them, so they are quite lovely to look at.
Feedback
I am excited for more varieties -- maybe a skin contact canned wine from Nomadica??
---