Average rating from 13 users
77%Recommend to a friend
Hilma Reviews
All

13
Hilma Stomach Recover + Hydrate

1
Hilma Gas + Bloat

1
Highly recommend Hilma for any of my fellow IBS girlies! Their Gas + Bloat supplement has a nice peppermint flavor and makes a noticeable difference in how my stomach feels when experiencing flare ups. I'm on my third bottle! A combination of the pills plus a Stomach Recover + Hydrate packet is my go to when struggling with IBS symptoms. Love that the products are all natural. Plus, the products look super cute in my medicine cabinet!
Hilma Stomach Recover + Hydrate
Hilma Gas + Bloat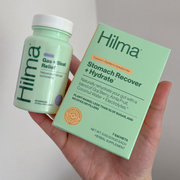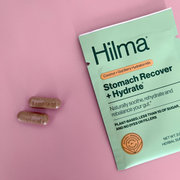 ---
I really like the aesthetics and design of the Hilma brand. I ordered the seven day stomach reset, which honestly tasted better than I expected it to when mixed in a cup of water
Feedback
...unfortunately, brand aesthetics & flavoring is only a small portion of a brand promising to deliver on health benefits. I did the seven day stomach reset and didn't notice any change to the issues I was experiencing. Would be interested to try their other products though!
---
---
I'm sure the effectiveness varies from product to product (and person to person). I've only tried the Gas Relief and I was surprised at how well it worked. Honestly, when I had gas, I never took anything, just dealt with it (believe me, my husbands loooooves this method). But now, taking these when I'm experiencing gas actually seems to help! Gas went away in about 30 minutes or so after taking it.
Feedback
I would like to have a slightly bigger bottle (28 capsules, but you have to take 2 at a time). I got it for $9 at Target, while it's $10 on their website. Would've been great to have a more bulk-related deal.
---
What is Thingtesting?
Thingtesting is an unbiased place to research and review internet-born brands — because honest reviews help us all shop better. Learn more.
---
I purchased the Immunity Support powder to stir into any drink hot or cold, and it had an outrageously earthy and chalky taste. I actually couldn't finish the packets I ordered due to the taste. What was worse is that I had strong stomachaches after ingesting the powder, so perhaps something in it didn't agree with me.
Feedback
For improvements, the taste and after-effects were not something I was expecting and made the item unbearable.
---
I love the concept and packaging of Hilma. I see these as a nice addition to the medicine cabinet for those days when you need a little remediation. I can't see these as a replacement to over the counter medications. All in all the allergy relief works great on some days, but will occasionally need to pull out the loratadine. The tension relief didn't eliminate a headache and I was still found myself reliant on acetaminophen.
Feedback
Strength of the product/effect.
---
I'm surprised to see how many 5 star reviews are on their website. While I love the branding, mission, and values (owned by women, backed by science, "better for you"), I didn't think the money was worth the hype because I did not experience any noticeable effects. 1. Upset Stomach Relief - this product didn't really do anything for me. Maybe I should try the Gas Relief next time? I definitely prefer Pepto ($6) to Hilma's product ($17) in this case. 2. Immune Support - this tastes so bad. I'm struggling to get through my supply. I feel healthier drinking this because it tastes so bad that I know it has to be good for me. Very strong ginger and lemon taste. 3. Elderberry Immune Gummy - these on the other hand, taste AMAZING. I want to eat them like candy. Hard to say there are benefits from taking these as there is little scientific research into the effects of elderberries on people's health. Love these though. Would repurchase.
Feedback
"Clean ingredients. Clinical results." ; "Clean Label" ; "Natural Solutions" - these are all buzz words that don't have true definitions. It's marketing. I hate when brands market things as "clean" - what does that mean? Same with "natural".
---
I wanted to love these but I'm just not sure I saw any real effects. Definitely not a replacement for NSAIDs/Rx meds if you suffer from migraines or tension headaches, but perhaps can be a nice adjuvant therapy. Love their commitment to reducing wasteful packing, etc.
---
Love the products — the bloat product is particularly A+.
Feedback
Would love to see more products for pain, and products for sleep
---
I use the tension relief pretty often since I get tension headaches and it seems to help as much as ibuprofen does. Plus the packaging is so cute!
---
These are magic. Their gut supplement is a gamechanger if you have a sensitive gut!! I honestly have never found a supplement that works as well as these do. The branding is also super cool.
Feedback
Nothing comes to mind. Really impressed. The site has great information for consumers as well - I learned a lot.
---