Average rating from 8 users
100%Recommend to a friend
the Move diffuser is one of my FAVORITES ever because I can go fill it up at the sink versus filling up a cup with water and waddling to the corded, plugged in diffuser. also makes it way easier to clean! i love the scent wild peony for work.
---
I think the appearance is very nice, however they do not diffuse very strongly.
---
---
Love the look of this my Vitruvi difuser, blends in well in my living room. I will say that I was expecting the quality of the product which is $100+ to be a bit higher. I find thati it difusses a strong amount the first hour but then you kind of lose some of it's power as you keep diffusing - I'm using oils from another brand that I already had, so I will definitely be testing using the difuser with Vitruvi oils to see if I see a difference.
---
What is Thingtesting?
Thingtesting is an unbiased place to research and review internet-born brands — because honest reviews help us all shop better. Learn more.
---
I use Vitruvi essential oil blends and they are lovely! I have the sleep and relax packages and I feel that the scents are so unique and delightful. I'd highly recommend these packages to anyone who has an essential oil diffuser!
---
Vitruvi offer so many different scents and different colours I have the white goes perfect with my white living room decor and it rechargeable no need to plus all day to plug. Love the rosemary sent. Is my fav !!!!
---
I love my diffuser and the way it looks and functions. I got the black stone and works very well after 3 years of regular use.
Feedback
It is hard to clean the inner well and I see mold build up at the top of the part that narrows. I wish they make it easier to clean.
---
Easily the best-looking diffuser on the market. The light around the bottom of the product adds a nice ambiance. Really modern design and a great collection of colors are available. The essential oil blends smell great but are a bit on the pricey side.
Feedback
Would love to see some collaborations/limited drops on for essential oils. Also, the single-origin essential oils (EOs) are a bit pricey for what they are. Some education on why Vitruvi EOs are "better" than what you can buy elsewhere would be great! The drip functionality on the Vitruvi EO bottles can be a pain relative to other EOs I have used.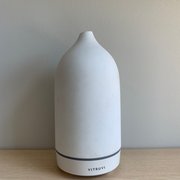 ---
Listen, I want to like the Vitruvi I have so much.Tbh it functions perfectly fine. The ceramic has a nice feel to it - good weight. But for some reason, everything else feels slightly finicky, just a little bit low fidelity. This feeling only continues anytime you need to fill up the humidifier. After removing the ceramic lid, what's left is a plastic base, plastic water housing unit, and a little feeble power cable. I was just hoping for something a little better quality for something that's +$100. That being said, it does really work well at diffusing the scents. I have grapefruit and eucalyptus, both of which smell great. Just wish the product experience was a little nicer. I also have a model that's about 2 years old at this point, and Vitruvi could very well could've reworked some components since then - so take this with a grain of salt 🧂
Feedback
Would love to see a little more value add - eliminating the internal plastic housing would go along way in terms of quality feel.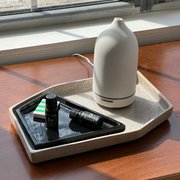 ---