Sun Basket
3.88 • 16 Reviews
Sun Basket offers a healthy meal delivery service featuring fresh, organic produce and clean ingredients delivered to your door.
sunbasket.com
Average rating from 16 users
81%Recommend to a friend
Sun Basket is great! When both of my in-laws passed away within 6 weeks of each other I really couldn't bring myself to cook. Sun Basket had an amazing array of delicious meal kits and ready-to-eat meals. The ready-to-eat ones were a lifesaver. So many different items, all of which were delicious. Highly recommend!
---
Meals were good and tasty. Just couldn't justify the price for what you are receiving. Meal kits are notorious with being more carb heavy (rice=cheap) which doesn't make it the most noutrishes option for my family.
---
---
I've been an on-again, off-again customer of Sun Basket for a couple years now. Overall, I like the quality and freshness of their products and they are a great option for convenient, healthy meals. The subscription and ordering is easy to manage online or via the app. My primary reasons for not continuing are that I really don't really want to use it often enough to keep an ongoing subscription, and while the packaging materials are relatively eco-friendly, the serving sizes are too small for multiple meals/leftovers.
---
What is Thingtesting?
Thingtesting is an unbiased place to research and review internet-born brands — because honest reviews help us all shop better. Learn more.
---
I like the concept of a healthy meal kit, but for one, it's hard for a company to cater to all the various types of dietary restrictions customers want. I found that the recipes were okay but not as good as some of the other meal kits we've tried.
---
Practical, but the recipes can be a bit basic and their seafood tends to have a strong smell. I found myself skipping weeks because I wasn't very interested in their recipe offerings. That said, it's one of the better meal kits out there.
---
The meals were interesting and the ingredients felt very fresh but I just didn't love the flavor profiles. It felt a little bland and boring. I was hoping for something with more punch.
Feedback
I'd like stronger seasonings and flavors in the meals.
---
I tried Sun Basket on and off for a couple of months. I love cooking and food so I was a bit skeptical at first but I do have to say that the recipes are delicious and easy to follow. I can confirm that using Sun Basket absolutely saves you time around meal time. You can tell that the Sun Basket team is putting thought into the rotation of recipes and ingredient quality as well. As per my photo, I love keeping the recipes for my favorite dishes and trying to tweak them a bit. I like the fact that Sun Basket is putting an effort into reducing its packaging footprint and using recyclable packaging.
Feedback
I wish Sun Basket would partner with grocers to put together Sun Basket kits I could pick up locally. Maybe this is a Midwest thing but I enjoy going to the grocery store and would love to be able to get some Sun Basket recipes without having to deal with all the packaging that comes with it. If you could strategically partner with a nutritionist or offer nutritional advice, I would be much more inclined to make Sun Basket a part of my weekly meal plan.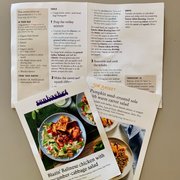 ---
I like Sun Basket out of all of the home cooking kits. The meals are more flavorful than competitors out there. Easy to follow directions. One gripe I have is the re-branding…. They went way too retro, not really a fan of the packaging now. But thankfully nothing changed with their food! Easy to skip and customize too from week to week!
Feedback
Beware sometimes with their spicy meals. Start small with the peppers/sauce!
---
My roommates and I love Sunbaket. We were a bit sad when Plated ended post-acquisition from Albertsons so this was our alternative. The food quality is amazing and they really understand subscription flows. So when we're away or may need less food during the week it's super flexible for all of us. They have a lot of amazing options, I haven't had a recipe I didn't like.
Feedback
The rebrand is 100%. It looks like they took the team to Joshua tree and got high on psychedelics. But I'm here for it!
---
Sunbasket has a lot of healthy delicious recipes, but the recipes call for so. much. chopping so be warned that making these recipes will take longer than one might actually think. Also there's a lot of inefficient packaging.
---