Average rating from 222 users
100%Recommend to a friend
Patagonia Reviews
All

222
Jacket

7
better sweater

6
Full zip

5
Women's Puffer Jacket

5
Pullover

4
Puffy vest

3
Tshirt

2
backpack

2
quarterzip

2
Sweater

1
Silent Down Jacket

1
Stand Up Shorts

1
Synchilla

1
Hoodies

1
Underwear

1
Bathing suit

1
Love the look of Patagonia's clothes, and I appreciate the functionality. However... the sizing is weird, so I would recommend trying items on in-store where possible. For example, I ended up getting a pair of Pack Out hiking tights in Small after trying them on in store. But if I'd ordered them online, going by the measurements provided on their website I would have chosen Medium and ended up returning them... The tights were super high quality and great for hiking, though. And they have lots of pockets! Worth the money for sure.
---
I love how engaged this company is. No more corporate monograms, sustainability focus always, their smoked mussels are everywhere now. Really cool.
---
---
Love the brand, love the mission, love the quality.
---
What is Thingtesting?
Thingtesting is an unbiased place to research and review internet-born brands — because honest reviews help us all shop better. Learn more.
---
I have been a fan of Patagonia for years and still wear jackets I purchased long ago. Fantastic quality and craftsmanship.
---
My Patagonia clothes always help me beat intense weather. I am always warm and dry.
Women's Puffer Jacket
Puffy vest
---
Great quality clothing. Also love that they have a lifetime warranty. If you have any issues with the clothes you can send them in to get repaired and if you are sick of them, they have a resell program to get a credit and buy new. Love a good reduce reuse recycle
---
Such a high-quality, ethical, and long-lasting product. I have new Patagonias I got as swag from events, old ones I inherited from my relatives, and everything in between. They last forever, are comfy, and so functional!
---
I have a 3 in 1 parka from them I've owned for 6 years and LOVE. I've only detached it to wear as separates once but it's really easy to do so or put back together. It was my daily coat (rain, shine, snow, ice) when I lived in the northeast and still looks as new as the day I got it. I want to get a new one finally just because I've outgrown the color I have (even though it is neutral lol) I also am a huge fan of the better sweater which I own a few of (quarter zip and full zip). They are so warm and cozy! The only thing is maybe they're not great at keeping the wind out but I wouldn't expect them to anyway without a shell of some kind. The re-tool sweater is also insanely cozy but also doesn't block any wind. I live in the south now so all my old patagonia "fall clothes" are now my winter clothes ¯\_(ツ)_/¯
---
Quality durable materials that are nearly a necessity in the PNW.
---
I'm a proud owner of various Patagonia items, ranging from underwear and t-shirts to jackets. What sets this brand apart for me is not just the exceptional durability of their products, but also the values they represent. The only thing holding me back from expanding my collection is the timeless quality of the pieces I already own – they're just as good as the day I bought them.
Jacket
Tshirt
Underwear
Bathing suit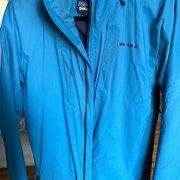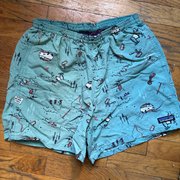 ---