Average rating from 270 users
I've paid less for better cakes than these. I've also had boxed cakes that were moister and tastier. I'm sorry but $62 for a 6-inch birthday cake ($140 for a 10 inch birthday cake!) just doesn't cut it for me.
---
Very delicious. Recently had a cookie on a United flight. It was the lemon flavor and it was dense and flavorful and didn't taste like fake lemon
---
---
Cool brand and everything, but every single thing I've tried has been wayyy to sweet. Wanted to understand the hype, but just not for me :/
---
What is Thingtesting?
Thingtesting is an unbiased place to research and review internet-born brands — because honest reviews help us all shop better. Learn more.
---
Just ordered a gluten free cake for my friends bachelorette and it was so good. I'm not a gluten free person and have no need to be and usually can toast a difference but not with milk bar. Absolutely wonderful cake it was completely gone by the second day. 10/10. Given it was shipped too, in perfect condition!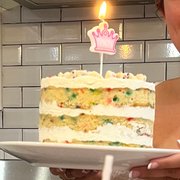 ---
I got a package of cookies as a gift from a friend and they didn't really live up to the hype for me. They were way to sweet and more crumbly than I was expecting.
---
Let's face it, Milk Bar is totally delicious. It's really for the best indulgence.
---
Okay. But not the best cookie I've ever had. Fun flavors.
---
I ordered one of their birthday cakes for my friends birthday. It's was so good. It also kept well for a really long time in the freezer.
---
I recently got a small Birthday Cake flavored cookie on my United flight and it was not for me. It was overly sweet for such a small cookie, that I had to spit it out. I did like the soft texture though. Overall if you don't like super sweet things this would not be for you.
---