MeUndies
MeUndies creates soft, comfortable basics for men and women from creative prints.
www.meundies.com
Average rating from 38 users
86%Recommend to a friend
MeUndies Reviews
All

38
T shirts

2
Socks

1
Boxer briefs

1
I swore by their underwear for a long time, but sizing can run a littttle small. It's a little pricey, but overall really comfortable, really cute, and SUCH fun patterns! I'm also a huge fan of their basic t-shirts!
---
Soft and comfortable boxers, shorts, and socks. I like the crossover merchandise but have this far stuck to the basics.
Socks
Boxer briefs
T shirts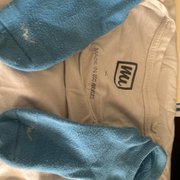 ---
---
Incredibly soft, love the fun and silly patterns. Wish they cost just a few dollars less.
---
What is Thingtesting?
Thingtesting is an unbiased place to research and review internet-born brands — because honest reviews help us all shop better. Learn more.
---
I just love love love MeUndies. Their products are so soft and comfortable, they have a great mission of diversity and inclusion, and they keep things fun with prints. They supply my husbands and I's underwear exclusively and I have many of their bralettes and I choose those over my normal bra most days.
---
I owned a lot of pairs of MeUndies over the years, but the pricing got too high for me and the quality seemed to decline a few years ago. They used to offer discount codes all the time and then they stopped.
---
MeUndies has revolutionized my everyday comfort and has become an absolute wardrobe essential. The softness and comfort of their products are unparalleled, making them the most comfortable items I own. In fact, if I could live in my MeUndies sports bra and undie set, I absolutely would! From the moment I slipped into my first pair of MeUndies, I was immediately captivated by their luxurious feel. The fabric is incredibly soft against the skin, providing a level of comfort that is unmatched by any other undergarments I've tried. It's like wearing a cloud against your body, embracing you with a gentle and cozy embrace all day long. What sets MeUndies apart is their extensive selection of fun patterns. They offer a vibrant and diverse range of prints and colors that allow you to express your personal style and add a playful touch to your underwear drawer. Whether you're drawn to classic solids or bold and eye-catching designs, MeUndies has something to suit every taste and mood. Their patterns add an extra element of excitement and individuality to the underwear-wearing experience.
---
Holes in literally every pair I buy after 6 weeks :(
---
Fun prints and comfy! My one set has lasted great over the years.
Feedback
Wish they didn't try so aggressively to lock you into a subscription.
---
Love MeUndies and love the different designs. It is always fun unboxing as I have a subscription although I try to manage it better as I don't always need a new pair every month. The materials are great and I've started buying their socks too (recommend as well).
---
I have a monthly MeUndies subscription and love the ability to get new, fun patterns each month. The one thing is they recently launched their "Breathe" line that's made of synthetic fabric, and it's not recycled... well 9% of it is which is just not much. The options for recycled synthetic fabrics these days are plentiful, so I'm disappointed that they're not using recycled synthetic fibers for that line.
Feedback
Use recycled fabrics when going synthetic! And I can't remember if their packaging is compostable or recycled, but I'm assuming it's not, so use compostable shipping packaging too!
---