Korres
Korres makes natural Greek skincare and beauty products inspired by homeopathic remedies and formulated using innovative technology.
www.korres.com
Average rating from 27 users
96%Recommend to a friend
Korres Reviews
All

27
Velvet skin drink

3
Greek Yoghurt Face Wash

3
Lip Butter

1
Lip Balm

1
Santorini Grape Velvet Skin Drink

1
White Pine cream

1
mascara

1
i have oily combo skin and the yogurt moisturizer is perfect + lightweight enough without being greasy! i wish it had a tad bit less shine but works well under a mattifying sunscreen.
---
Used to LOVE their Greek yogurt moisturizer. Now it seems like it's harder to find them inside retail stores.
---
---
I have yet to find a product I do not like - especially obsessed with the Wild Rose 15% Vitamin C Spotless Serum & Santorini Grape Velvet Skin Drink. Once you start, you'll never go back! Truly high quality and their rewards program is incredibly well designed too!
Velvet skin drink
Santorini Grape Velvet Skin Drink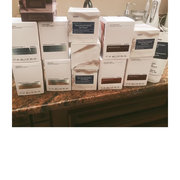 ---
What is Thingtesting?
Thingtesting is an unbiased place to research and review internet-born brands — because honest reviews help us all shop better. Learn more.
---
So far, I've only tried the yogurt cleanser. I received it a long time ago in an Ipsy box. I loved how clean and soft my face felt. However, if you wear a lot of eye makeup, you'll need to be sure to remove it completely beforehand with a separate makeup remover as this cleanser did not wash off any mascara at all for me.
---
The Korres Santorini Grape Renewing Body Cleanser smells amazing. It's like taking a shower with wine. I love it. It has aloe extract in it, which makes my skin feel extra soft. Apparently, the brand has been around for some time, although I've only just come across them. I look forward to trying some of their other skincare products.
---
The Velvet Skin serum (the green one) is so goodddd.
---
Korres products are high-quality. I first fell in love with their lip butters, perfectly tinted for a pop of color and hydration. I only wish they were longer-lasting. Upon going to Greece, I picked up a few additional products, including a tinted lip balm that I love. Again, I wish the color was long-lasting, but appreciate the quality ingredients from this moisturizing product.
---
Being a fellow Greek, I must say Korres has been around for many years. I always have it as a staple in my skincare or cosmetics. However, sometimes the scents are a bit overbearing and heavy when it comes to skincare or body care. I must say their makeup is the best but isn't sold domestically (if not mistaken). If you are ever in Greece, go to the local drugstore or they may even have it in the airport, and find Korres makeup, like their lipsticks in glossy and matte finishes. The colors are the best, and the formulation is premium.
---
Most of the products I've tried from Korres have been brilliant. I love their shower gels, the scents are out of this world, and not a bad price for the quality. I didn't love the Rose face cream as it broke me out, but it's very rich so would probably work better for dry skin. I think the packaging is a little busy in design, they don't seem to have updated it in a while.
---
Korres is AMAZING!!!!!!!! I loved their products, I was introduced to the brand by a friend. Skincare and their makeup is amazing
Velvet skin drink
mascara
---