Average rating from 15 users
79%Recommend to a friend
Kizik Reviews
All

15
Kizik Men's Athens Bahama Wide EE Kizik Hands-Free Shoes

1
roamer

1
Irvine - stretch canvas

1
I'm so glad I bought these shoes. They're super comfortable and truly are hands-free. I have wide feet so usually struggle to find shoes that aren't too tight. Truly a life upgrade. I'm looking forward to easy on-off next time I fly.
---
I wore them to work on the first day I got them and I got blisters on my feet. They are very uncomfortable. 130.00 poof. Will be throwing them out
---
---
Got a pair of these when I was pregnant and couldn't touch my toes. These made it so much easier to put my sneakers on! I did size a half size up. I added no tie laces to make it even easier. They don't have very much support and an insole is helpful especially if you want to do any type of work out in them. They have gotten pretty dirty from everyday use and they aren't the easiest to clean.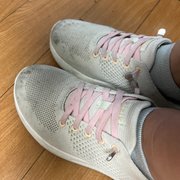 ---
What is Thingtesting?
Thingtesting is an unbiased place to research and review internet-born brands — because honest reviews help us all shop better. Learn more.
---
Id never before age 35 ever heard Of this brand of cheese, however, after being gifted a pair for my birthday in august; I absolutely,hands down, rate them a full 9.7 out of 10! They extra comfy ease of putting them on w- no more than jus simply stepping into them! No hands! No bending, wiggling your foot in to get that "just right & fitted feeling"! They not only are rated top of the totem pole for comfort and convenience, but their simple yet sofisticated style is easy to clean and matches anything!!! I love them! Id most definetely recommend these shoes to people i know!! Made for ease to comply with some specific needs we come along in life, but they are uniquely and superbly made for all ages and sizes!! These would even Bring total ease & comfort to pregnant women (we women know how nothing is Comfortable when your pregnant..) One of the best shoes ever made!! Every one should have a pair !!
Kizik Men's Athens Bahama Wide EE Kizik Hands-Free Shoes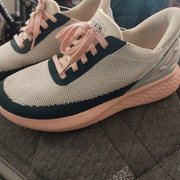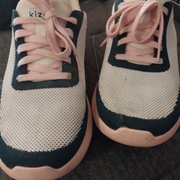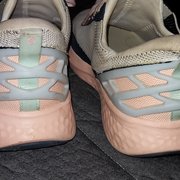 ---
I bought these shoes for my father who is 80 years old and lives in a retirement home (for Christmas last year). He found them very comfortable and wore them a lot, but never wore outside as it was winter time. I live 3000 miles away from my father, and I went to visit him in June. This was the condition of the shoes (note he has the heel part taped up because it fell apart) I was very surprised so I wrote the company asking for compensation. Their response to me was they would give me a 15 percent off a new pair and that this was considered normal wear and tear. If this is normal, wear and tear for 6 months on an 80 year old in a retirement home, I would not want to see what they look like after one year on a teenager or a man that is using them outside. It also surprises me that they think I would want to buy another pair using their discount which was very minimal.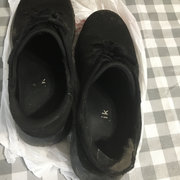 ---
I wouldn't recommend for the price. They don't always work as hands free and I've had to go with no tie elastic laces to make them truly slip on. They run wide and large. They aren't as supportive as other walking, running or gym shoes I own. There are also more attractive supportive sneakers out there. If you want hands free, i recommend buying elastic no tie laces to replace cloth laces in sneakers and save yourself a lot of money.
---
no joke these things are so comfortable. I love them!!! I have 5 pair now
---
Okay I got my first pair of Kizik shoes (Vegas in pebble grey) in December and they have quickly become my favorite shoes ever. They really do work and no-hands shoes! I do wish they had a bit more of a supportive base. I'm hoping the more athletic sneaker style does so I can wear them on longer walking days! Why didn't I find these sooner!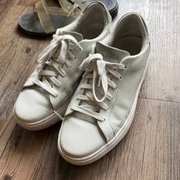 ---
The most innovative step-and-go experience for a shoe. These are game-changers for me when I am rushing out the door or have my hands full. I continually run into situations where my Kiziks have come in handy. My grandpa also LOVES them as he doesn't have to bend down to tie his shoes anymore.
Feedback
I hope for continued improvements on design. Product innovation is there, but the style and variety of shoes could use some work.
---
LOVE this brand!! This shoe does EXACTLY what it says it can do! Enter your shoes without hands. I'm not usually a person who spends $100 on shoes for myself that is why I started the Kizik journey by buying them for my husband! After seeing his reaction, I tried them myself and now own three pair. The ordering and returning processes is very good and reliable. I know this because I've ordered a style that I thought I would like, but did not like the fit. I love using these shoes without socks!...which is another thing I dont usually do. I truly wear them around the house almost like slippers because they are THAT comfortable. Also of course, they are perfect for at the airport and I was thrilled to see them advertised on the "stuff" bins that you slide across the belts at the security check at airport! ALSO, I've put them in the washer and they turn out great!
Feedback
They come in a variety of colors so all I can say is keep it up because some of the colors are fails to me personally :)
---