De Soi
De Soi makes non-alcoholic apéritifs with natural adaptogens to improve the functions of your mind and body.
drinkdesoi.com
Average rating from 27 users
42%Recommend to a friend
The "très rosé" is my favorite non-alcoholic canned cocktail at the moment -- fruity, without being too sweet. Some of the other flavors don't do much for me, but that's the nature of flavor preferences, I guess.
---
Not the best non-alc. The taste is very funky, and a lot of the ingredients and the promises just sound like snake oil (but to be honest, this is a problem I have with a lot of "functional" beverages). I messaged customer service while pregnant to ask if the drink was safe to drink, and they said yes. On the bottle however, it says that you should consult a physician before drinking... 😇 Lastly, the price is bonkers, I think they go for 8 dollars a can in the local grocery store where we picked them up.
---
---
I tried the Champignon Dreams flavor and did not like it... it is super bitter - not very sweet at all and kinda of leaves an aftertaste. I do not like Aperol either, so maybe if you enjoy that you would like the bitter flavor of this drink too..
---
What is Thingtesting?
Thingtesting is an unbiased place to research and review internet-born brands — because honest reviews help us all shop better. Learn more.
---
very unique taste, i liked it though !! nice and relaxing
---
not my favorite -- had a very strange taste and a not so pleasant aftertaste. I will not be running back to the shelves for this one, but I would definitely be open to trying other flavors. I tried the sparking non-alc aperitif. Very cute packaging and vibe though!
---
Honestly love this product. Champagne Dreams is my favorite of the two major products. At first pour the bubbles bring me so much joy. I felt like the description was spot on I could taste all the flavor notes, apricot forward with lingering syrupy strawberry, and a bitter grapefruit finish. It's fruity without being overly sweet and doesn't have the over powering vinegar taste I have found with other non-alcoholic alternatives. (If you're not a bitter girly definitely pass on this one)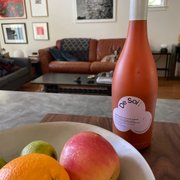 ---
This drink was so bad. I tried the Champignon Dreams flavor... it tastes like Earth meets vegetables meets beets??? It was honestly horrible. Idk how anyone could drink this and actually enjoy it.
---
Not my favorite. Thought the flavor was very bitter which I am not a big fan of.
---
Horrible...why would anyone drink this? It really isn't healthy - it tastes nasty and it is expensive. If you want a non-alcoholic drink there are so many better options. I feel duped having purchased two bottles...50 dollars later both bottles ended up in the garbage.
---
I give this product one star as the packaging is beautiful. However, the contents are undrinkable. The first nose on opening the bottle is very perfumed. On tasting, initially there is a spiciness (not pleasant) followed by a bitterness (very unpleasant). I'll stick to drinking apple cider vinegar
---