Buffy
Buffy create comfortable and soft bed linens and comforters with sustainable materials.
www.buffy.co
Average rating from 35 users
77%Recommend to a friend
I bought the Wiggle pillow cover for a Bearaby pillow. It is so incredibly soft and cuddly. I originally got a pink or rust color which was very pretty but didn't really match my bedding, and I exchanged it for white (exchange process was super easy!), even though I was worried about getting it dirty. However, I have had it for 8+ months and it looks good as new.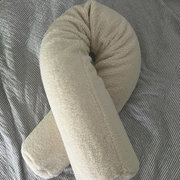 ---
I have Buffy's comforter and wiggle pillow. The comforter is so light weight yet warm. It's perfect. The wiggle pillow is also super light weight and a great pregnancy pillow alternative. I wish it was a little more stuffed but it's been a godsend and improved my sleep despite a connective tissue disorder that causes chronic pain. I love that their items are sustainable.
---
---
Just got my Buffy a few days ago (the cloud). I was a bit disappointed because it didn't fluff up as much as I would have hoped- I love the look of a really fluffy and tall duvet. It's very warm, and will probably be too warm for the summer. Honestly, outside of the eco-claims I don't see this as being that much better than a standard Amazon down alt comforter.
---
What is Thingtesting?
Thingtesting is an unbiased place to research and review internet-born brands — because honest reviews help us all shop better. Learn more.
---
I got suckered in by their instagram ads because I tend to get hot when I sleep at night. I do think their comforter is cooling and is great to sleep under.
Feedback
I thought their comforter would be fluffier / snugglier - it's pretty thin. Also the recommendation is that the comforter is dry clean only which is more high maintenance than I want my everyday comforter to be. I ended up caving and machine washing it and after a few runs through a machine there were pills everywhere but that is my fault for blatantly ignoring instructions. I also have their duvet cover which is the WORST. The corners / sides do not stay filled with comforter no matter what I do, even tying the corners like you're supposed to. It's also almost as expensive as the comforter itself which is ridiculous. Definitely don't buy the cover.
---
I was super stoked to try this brand when I found it 2 years ago. What's better than a super comfy comforter? So I got the Cloud comforter and have had it just about 2 years now... Have washed it ONCE exactly as the directions say to... and I am disappointed. ALL of the filling has moved to the outer edges of the comforter and the middle basically feels like a top sheet. I also got the pillow from the brand and it went from pretty firm and filled to a super thing clumpy fill which is disappointing.
Feedback
I know the brand has changed the weave of the new Cloud comforter so that may not be an issue anymore, but for my comforter and my pillow I got last year, I am very let down!
---
Got the sheets a while ago and loved them so much. They get softer with every wash and are cool to the touch. I bought the cloud a year or so ago and love it as well! It feels like a weighted blanket but airy at the same time and sleeps cool.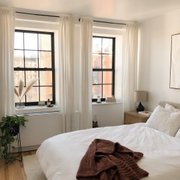 ---
Super soft and durable sheets and comforter. If you are a hot sleeper like me, it won't really help you, it's breathable which is great but save it as a winter comforter, like I do. Great customer service.
---
I bought the Buffy comforter shortly after they launched, seduced by the fun and playful branding and website done by Red Antler. I loved the comforter for the first few months we had it, but it quickly began to pill and discolor. I also find that it sleeps much warmer than promised.
---
I got two pillows and hemp linen sheets. Hemp is by far the most sustainable bedding there is and I love the texture! Would absolutely buy again. The pillows are unremarkable.
---
I was looking for a down-alternative duvet and found Buffy. Unfortunately their comforters are not breathable and I felt very sweaty.
---