Vessi
Vessi crafts vegan waterproof sneakers to encourage everyday activities no matter the weather.
www.vessi.com
Average rating from 16 users
69%Recommend to a friend
It started great and really waterproof in the first year. Just right after 12 months and 24 days, the tip of the shoe started to get wet. I can feel the tip of insole is wet. My socks are wet too. (just the tip). I don't wear it everyday. Once once in a while. Not sure what's wrong...
---
I love my Vessi sneakers and wear them almost every day! I HAAAATE wet socks (who doesn't??) but struggle to find rain boots that fit me right and don't hurt my feet. Vessi has been an awesome alternative for me and totally worth every penny. I live in NYC and walk everywhere without my feet hurting one bit, which is huge for me. Plus, they are machine washable, which is a bonus... in fact, mine are in the wash right now!
---
---
I bought these a few years ago. They do as advertised but my biggest issue is the bottom grips are awful. How are you going to main shoes to wear in the rain that I constantly have to worry about slipping in??? They're also not very cute, at least the ones I have. They probably have more styles now
---
What is Thingtesting?
Thingtesting is an unbiased place to research and review internet-born brands — because honest reviews help us all shop better. Learn more.
---
After buying 2 pairs of shoes, took over a week for them to be shipped out of the warehouse. The shoes feels good in your feet. They are meant to be a bit tight I think because of the "neoprene" feels inside. The laces don't change much on how the shoe feels on your feet. Watch out tought, it's not because the shoes is said to be waterproof (that's the "neoprene" liner inside) that the outside fabric is stain proof!
---
As many others have said - do NOT get white. They are waterproof, and they don't fit the best (you will need insoles) but man do they get dirty, quick. I never would have bought them, had I known. They are a complete pain to wash, as well. I don't think I'd get another pair. Also if you wear them without socks, you will get blisters.
---
Comfortable and pretty until you wear them. They get really dirty really fast. They seem to attract dirt! Once you figure this out you can't return them. The return policy is new shoes. I've had to wash these so many times and have only had them since May. I'll stick to my $20 white sneakers from Walmart! They are super cute and comfortable and I just had to wash them after almost a year. Could have bought seven pair of those for the price of one pair of Vessi shoes.
---
Super comfortable and truly miraculously waterproof. I will say though, they could be a bit more stylish. Because they weren't "cute" enough to be my default walking around sneakers, I honestly didn't wear them as much as I hoped I would. This is obviously my subjective opinion, so I think buying these depends on your personal circumstance. It's worth it if you live in a place that's pretty rainy or love the way they look, else you should be fine with your regular sneakers.
---
Well, they are certainly waterproof. The opening is very snug to prevent more water from coming in, though that makes them less comfortable to wear, especially with socks. It feels tight on my usual size. Good purchase for heavy monsoon areas though they don't actually get as much use as I thought they would.
---
Love the idea of waterproof shoes. Great customer service: had an order that was extremely delayed during the holidays and they offered to send a pair of free socks in the order.
Feedback
The white shoes get extremely dirty after just a few wears. I find that I'm washing them every other week because wearing dirty white shoes is a pet peeve of mine. I'm then worried that I'm degrading the quality of the waterproof shoes as a result of so much of this washing. Wish they were mud-proof or dirt proof to some extent as well, so this could've been a non-issue in the first place.
---
They are my new favorite shoes and truly waterproof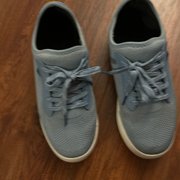 ---