Secret Aardvark Trading Co
Secret Aardvark Trading Co sells a range of specialty condiments and spices.
www.secretaardvark.com
Average rating from 8 users
88%Recommend to a friend
Secret Aardvark Trading Co Reviews
By far The Best hot sauce out there!! I ALWAYS have at least two bottles of this in my house at all times! I've had the red and the green. Both are delish, but the red is AMAZING!
---
After seeing the glowing reviews, I had to try Secret Ardvark's habanero hot sauce. I am a chilihead and have 5 hot sauces on the go at any given time. I enjoy eating habaneros raw with with cheese and find raw habaneros to be naturally flavorful. I write all this to caveat this review as I am biased towards certain flavors. I found Secret Ardvark's product to taste smoky and to mask the habanero flavor. The smoky flavor I assume comes from the fire roasted tomatoes (in the first ingredient.) Habaneros are only the sixth ingredient on the list so if you are expecting a habanero hot sauce, change your expectations. I've resorted to hiding it in dishes while cooking rather than using it as a sauce/dip. Others love the flavor, but I'll pass on this smoky mildly spicy tomato sauce!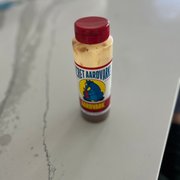 ---
---
Unlike some other hot sauces which only taste spicy, Aardvark has a great balance of heat and flavour. Their Habanero hot sauce is our go to when we want something milder to add a bit of kick to our meals.
---
What is Thingtesting?
Thingtesting is an unbiased place to research and review internet-born brands — because honest reviews help us all shop better. Learn more.
---
Love the packaging and style of bottle they use and the sauces I've tried have been absolutely delicious!
---
Love all of these hot sauces. The drunken garlic is great on everything!
---
This may be my new favorite hot sauce...it combines heat and flavor so well! I have tried the Habanero Hot Sauce and I will definitely be purchasing this again. It's great with eggs, potatoes, and really any savory food that can use a bit of heat!
---
Tried the Habanero Hot Sauce and it tastes great!
Feedback
-1 star for the packaging. The bottle is pretty stiff and it's difficult to get the product out.
---
i'm legit obsessed with this hot sauce. i cannot live without it.
---