Average rating from 92 users
The lychee flavor is INCREDIBLE. Downside is that these are more expensive but we love buying these as a treat. Nothing compares.
---
---
Interesting flavors. Lychee flavor is very refreshing
---
What is Thingtesting?
Thingtesting is an unbiased place to research and review internet-born brands — because honest reviews help us all shop better. Learn more.
---
I love Sanzo! The flavors are accurate and way more robust than a flavored seltzer like La Croix. I like that they have real fruit in them. They're a fantastic alternative to soda, *and* they look great and work well as mixers.
---
I just recently discovered these at whole foods, and the ginger yuzu is my absolute favorite! It is so addicting, and such a good treat!
---
Love the Ginger Flavor, Lyche and Yazu Flavor. Love how "not sweet" it and the flavor is just right. Definitely purchase at least once a week.
---
Tried the lychee flavor at an event, and it was good! Not too strong/sweet where it tastes like you're drinking something super artificial. If I'm out somewhere and see this as a drink option, I'll get it! But I probably wouldn't go out of my way to buy this while getting regular groceries.
---
These are so good and flavorful considering how low-calorie they are. The calamansi is a unique flavor!
---
I highly enjoyed this lychee flavored sparkling water. I suppose I use flavor in more loose terms as it was less of a flavor and more like an actual juice in addition to this crisp sparkling water. I thought it was very refreshing and the packaging is eye catching on the shelf. Always a huge plus when you're a beverage girly who likes to not only enjoy what you're drinking but, feel extra cute when coupled with a handsomely labeled beverage. The only negative I found was that my can had little tiny bits of what I assume to be lychee? Honestly still don't know what it was and it was a little jarring at first as my friend had her own Sanzo in the same flavor and her bev was totally clear. I got over it quickly because the flavor was addicting. Other than that, sign me up for a Sanzo!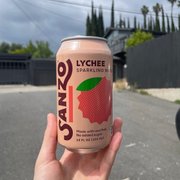 ---
Received a free product from Sanzo
I expected a stronger flavor from the mango, but it was vary faint.
---