Average rating from 27 users
I have the pro + prebiotics ones, and they are so tasty and work! Will definitely buy more!
---
Fall asleep with the sleep gummies in 20 min, no anxiety. Everyone in my dorm hall used them, we love them.
---
---
I love the melatonin and women's multivitamin gummies. They taste very good and have a nice texture, unlike other vitamin gummies I have tried. The melatonin gummies help me sleep peacefully without grogginess in the morning.
---
What is Thingtesting?
Thingtesting is an unbiased place to research and review internet-born brands — because honest reviews help us all shop better. Learn more.
---
The Olly Melatonin gummies taste so good & work well. I love that they have an extra-strength version as well. It helps me fall asleep usually within a half an hour & I wake up without feeling drowsy the next morning.
---
These taste great, and are a good way to remember to get your vitamins in. But I don't like that they have so much sugar and vegetable oils.
---
The focus gummies work very well
---
Affordable and delicious vitamins! I've tried the women's multivitamin and the flavor and texture is great, and I've noticed myself feeling generally healthier. You can't beat the price point for a "trendier" vitamin.
---
This is a review for the Goodbye Stress gummies only. I read a lot of great reviews online so I decided to give them a try. Sadly my experience was not the best. First the quality of the gummies was rough, they were not soft and not easy to chew, second flavor was not great either and finally I did not feel any effects. Due to the amount of positive feedback online, I am willing to try another type of Olly gummy, but unfortunately the stress ones were a no for me.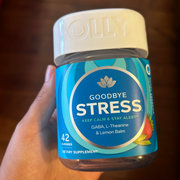 ---
So delicious! Easy and fun to take. It's like a reward 😉
---
Great company with variety and accessibility to everyone really. Plus they are fairly priced for the quantity and quality. And tasty.
---