NOODIE
4.3 • 30 Reviews
NOODIE makes plant-based instant ramen that is low sodium and high protein using kale, bok choy, and broccoli.
getnoodie.com
Average rating from 30 users
86%Recommend to a friend
Tasty ramen alternative! The noodles seem off putting at first since they're so GREEN and look so thin and glassy almost but the texture is really close to real ramen - it's the right level of springy and chewy with a good amount of bite.
Feedback
There's a lot of plastic packaging so doesn't seem like a very sustainable option. I'm not sure this should be categorized as "low sodium" when it's still massively salty (though delicious) even when I know it's in comparison to traditional instant ramen brands. Not sure I would purchase this over regular instant ramen - I don't eat it often enough to be anything other than a treat so it doesn't need to hit some sort of health standard for me.
---
I bought the 3-pack (Peanut Chili, Smoky Garlic, Tonkotsu) and liked the flavor of Tonkotsu best. Peanut Chili smelled great, but I added too much water and it ended up tasting like nothing. After using the exact measurement for water (1 1/4 cup), Smoky Garlic was waaaay too salty. Tonkotsu was tasty and paired well with additional protein/vegetables. The noodles tasted great – springy and chewy like you'd expect. Vegetables were a great addition to texture. Not a soup noodle, more of a saucy noodle. Super easy to make and good for sneaking in extra protein without the additives, preservatives, and sodium of regular instant ramen.
Feedback
Smoky Garlic was really salty! Could definitely cut down on the flavoring if low-sodium is part of the objective and 52% of daily sodium intake is not quite as guilt-free as promised.
---
---
A completely vegetarian & vegan ramen experience! The vegetables and reduced sodium content make them healthier. I tried all the flavors and the Tonkotsu & peanut chili are my favorite. The smoky garlic is nice too.
Feedback
The costs also needs to come down a bit. I would recommend even healthier whole-grain noodle option like soba (buckwheat).
---
What is Thingtesting?
Thingtesting is an unbiased place to research and review internet-born brands — because honest reviews help us all shop better. Learn more.
---
very delicious, so easy to make, great macros. Love this. delicious vegetarian ramen is not easy to find in the grocery, this really checks all the boxes.
Feedback
got nothing here. really like this.
---
Ordered and didn't get any shipping confirmation email for over a week. Wrote them multiple times and they never responded. The box finally showed up 2 weeks after ordering, still no responses… not even a quick Hey sorry we've been slammed but should be there soon. The noodles themselves are actually pretty good! The dehydrated vegetables are great and the tonkotsu is my go-to quick lunch on a zoom-filled day. Don't love the garlic flavor. I might get it again if I can't make it to an Asian supermarket and find an alternative. The lack of response is off-putting.
Feedback
Customer service. I understand it's a small biz but even just a short acknowledgement of the email is much better than nothing, even days later. Set up an auto response when you're super busy and say so. It's free and it better sets expectations. Not responding at all (and it's been several weeks since) is really not OK for any business of any size.
---
Tried the Tonkotsu flavor. At first glance it doesn't look great, but surprisingly ends up really tasty. It's quick to prepare and healthyish. Love that it's vegan. Would definitely try it again.
---
i really wanted to like these noodles but they do NOT taste good. kind of tastes like cardboard and grass.
---
So easy to make, really cool packaging and very tasty. I need to reorder immediately. This was my first experience trying a healthy instant ramen and it was a 10/10. I don't eat pork so I really appreciated that the tonkotsu is vegan!
Feedback
Not an improvement since it's perfect but I'd love to see Noodie come out with a mushroom flavor
---
Peanut chili was surprisingly tasty! I didn't expect shelf-stable food that's marketed as "healthy" to taste like this.
Feedback
The packaging is cute but isn't designed for preparation on the go / limited table space (unlike traditional cup noodles). There are too many little packets of stuff to open, and if you don't have a level surface, it's easy to spill things when you're transferring them back to the "cup". It's also hard to mix everything into the noodles with the narrow box opening. Traditional cup shaped cup noodles are perfect for on-the-go consumption, but their packaging goes straight to waste. If Noodie's packaging is recyclable, it would be nice to know which parts are recyclable (hopefully all!)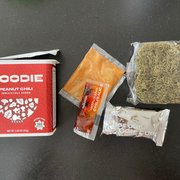 ---
I'm a huge ramen fan and I love how easy, clear, and straightforward this is. Love it!! The tastes are really good, The tonkotsu flavor is awesome. I sometimes add a little more soy or salt, but overall so good. Not crazy about Peanut, but that's a personal taste question.
Feedback
Maybe add a non-vegan option to the lineup?
---