Kinship
Kinship makes high-performance, clean, cruelty-free, and consciously-packaged skincare products.
www.lovekinship.com
Average rating from 16 users
88%Recommend to a friend
Kinship makes sustainably packaged, playfully designed clean beauty products - it feels as if a Gen Z color palette met a Millenial typography. I've tried a water-based cleanser, an eye cream, and a mud mask - the first two were solid, not quite eyecatching, but the third was pleasantly effective, smelled great, and easy to use. Kinship's products are priced VERY well relative to similarly formulated clean beauty brands - and they put a lot of thought into their packaging (often eschewing boxes!) which is great to see. Overall, 3.75 stars, would recommend trying but not a brand I gush over.
---
Love love the supermelt lip jelly mask. Light flavor, nice sheen and no color. Goes on smooth and lasts a long time. My lips stay soft even after its come off.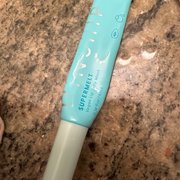 ---
---
The sunscreen is amazing! I've used Supergoop for ages and I find myself now often switching between Kinship and Biore's sunscreen from Korea (super hard to find though). It feels amazing on the skin, not thick or leaving you shiny. It also smells great, unlike normal sunscreen.
---
What is Thingtesting?
Thingtesting is an unbiased place to research and review internet-born brands — because honest reviews help us all shop better. Learn more.
---
I love this brand's sunscreen & am really interested in their new eye cream. Other than that, the brand just comes off childish to me. Seems as if it's for middle schoolers or younger generations dealing with acne and not so much for adults. I like that the SPF has probiotics and acne friendly ingredients, I don't love the scent though.
Feedback
Overall, I think they have great products & formulations... they may jsut need a rebrand to appeal more to a wider range of customers and not come off so childish!
---
The basic and sport sunscreens go in smoothly, feel and look invisible and work well. Love the branding and packages.
---
Received a free product from Kinship
My overall decision on Kinship, not only is the packaging amazingly appealing. The products really pack a punch! You will be hydrated and treated to comfort skin. If you are looking for detox or extreme cleansing these are not the products. I recommend this routine for someone with dry skin but oily t-zone! It brings the best out of the skin.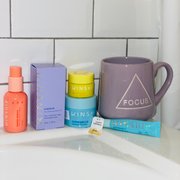 ---
I purchased the lip balm last year and love it. I contains some great ingredients, that are natural and help to keep my lips moisturized.
---
The Naked Papaya cleanser smells amazing and is very gentle for sensitive skin, but too gentle for a cleanser. Same with the hydrating gel, I did not see much effect from both products.
Feedback
Their products have an intense smell, I would not recommend if you do not like intense smells in skincare.
---
Kinship has quickly became one of my favoirte brand. I love the lip mask! It leaves my lips hydrated and plump throughtout the whole day. It is so good on the lips. The rose sunscreen is also really good. I love the pink tint it has. I feel like it gives my skin a nice glow under makeup.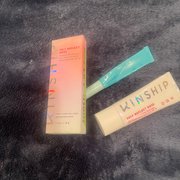 ---
The self-reflect sunscreen works great as a light bb cream, soaks in quickly, and not too greasy.
---